Hội An is located on Vietnam's central coast and is known for its very-well preserved Ancient Town. It is also referred as Vietnam's most beautiful city. After hearing so many people rave about this city (both trip guides as well as followers' feedback/advice), I was ready to see what this city was all about!
For starters, it's not super easy to get to. Don't get me wrong… you don't need to ride a elephant from the airport buuuut it is about a 40 minute taxi ride away from the closest airport which is in Da Nang (DAD- that's the airport code. Not sure why but the first time I saw this, I lost it laughing so hard… yeah go figure 😀 ). Da Nang is only about an hour and a half long flight from Ho Chi Minh City which makes adding Hội An into your Vietnam itinerary very doable.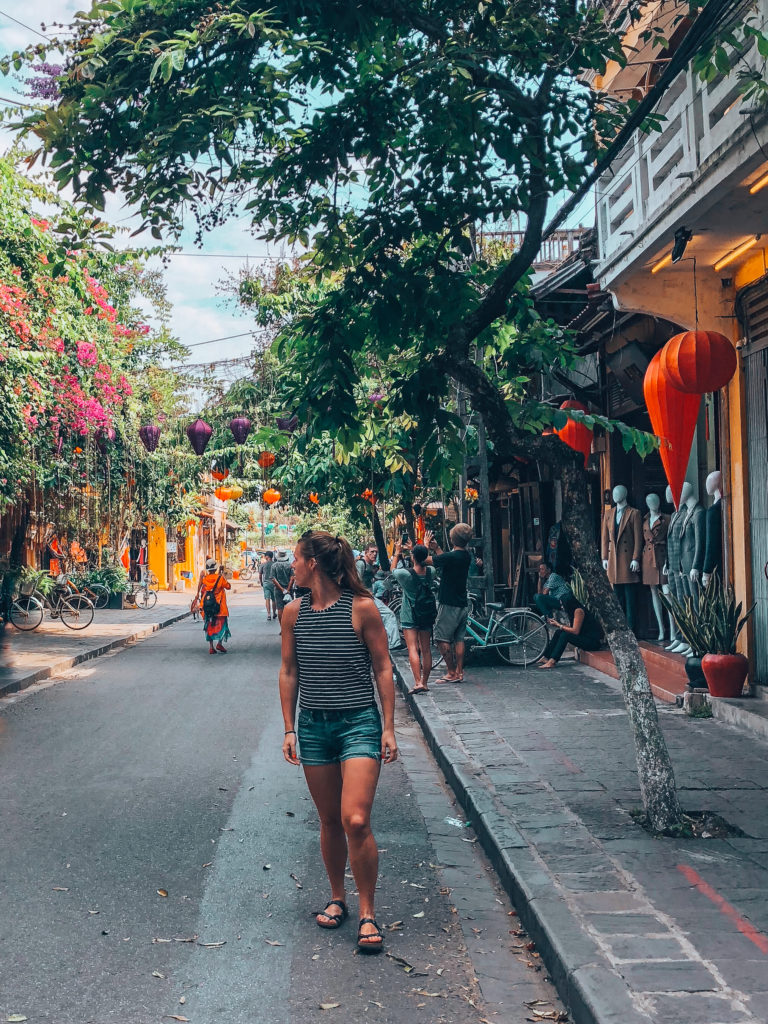 And this is what happens when you arrive in Hội An. This city is so quaint and cute that you'll get distracted by it all when you're getting your photo taken. #SorryNotSorry 😀
Stay: Almanity Hoi An Wellness Resort – The resort is a quick walk from the Ancient Town but also away from the hustle and bustle providing a relaxing oasis in the middle of Hội An. The complimentary breakfast was one of the best I've had- especially the fruit selection and juices. Before you ask, I don't remember what that bright blue juice was… but I do remember it was delicious. 10/10 would drink again.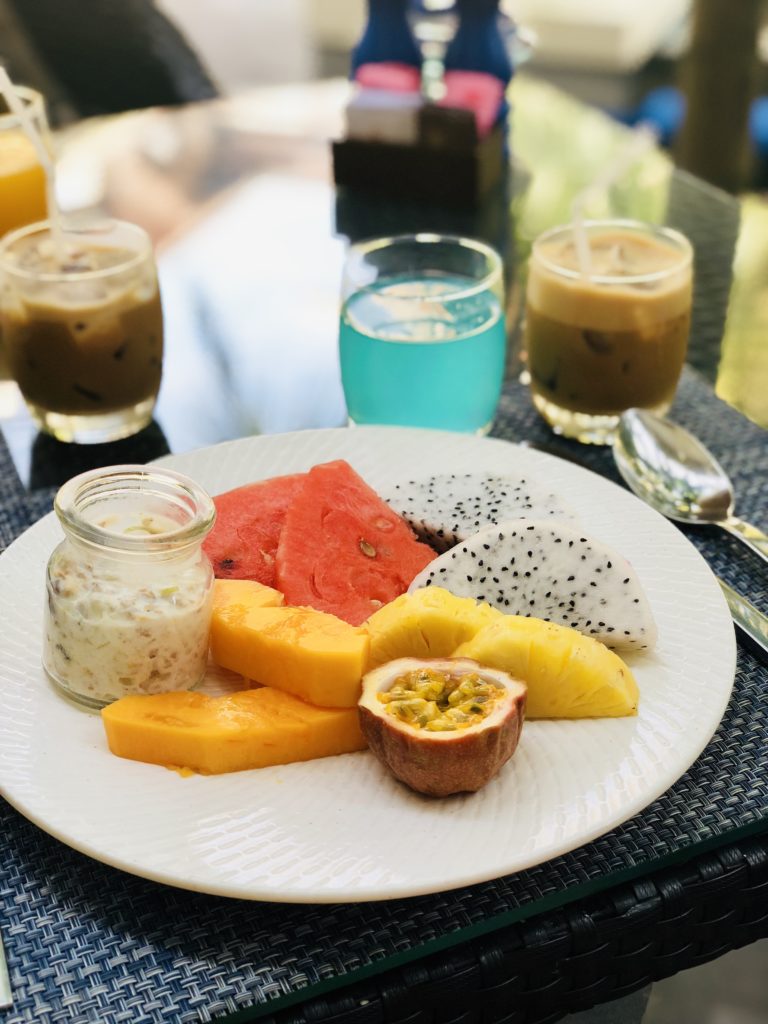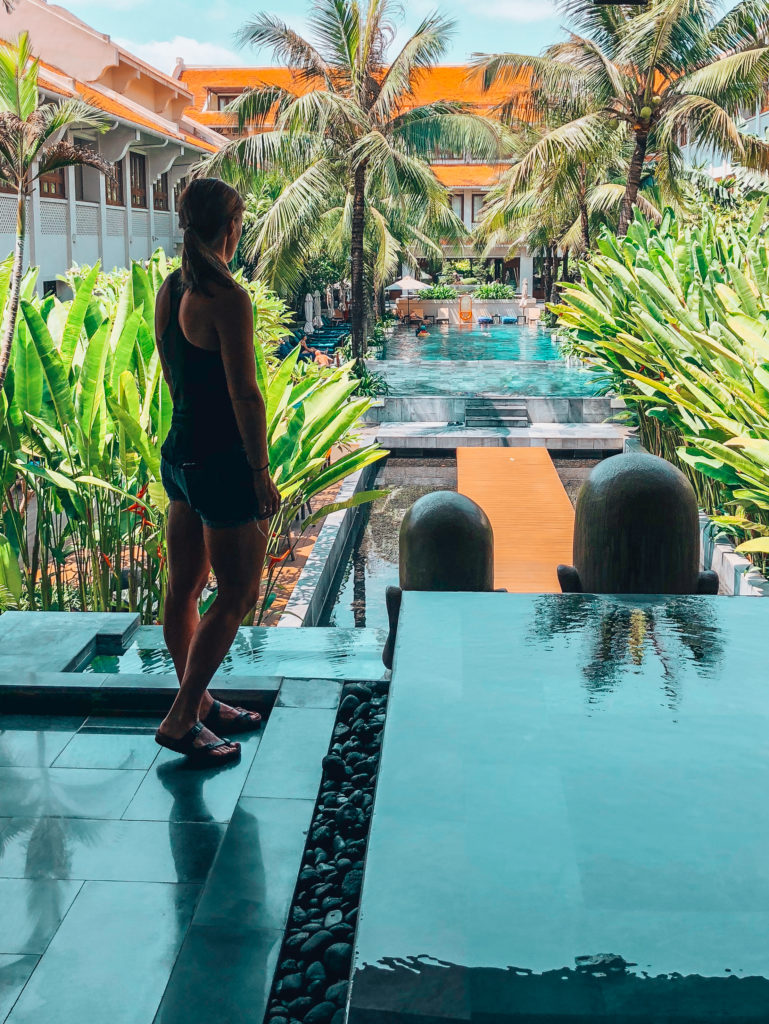 Every stay comes with a free 1 hour body massage! After 10 days on the road it was amazing to break out the robe and walk over to the spa and get completely pampered! What a relaxing experience topped off by 20 minutes in a beautiful sauna. I never thought I would enjoy a sauna on this trip (since all of Vietnam is essentially one big sauna) but this was a great way to end a beautiful day walking around Hội An .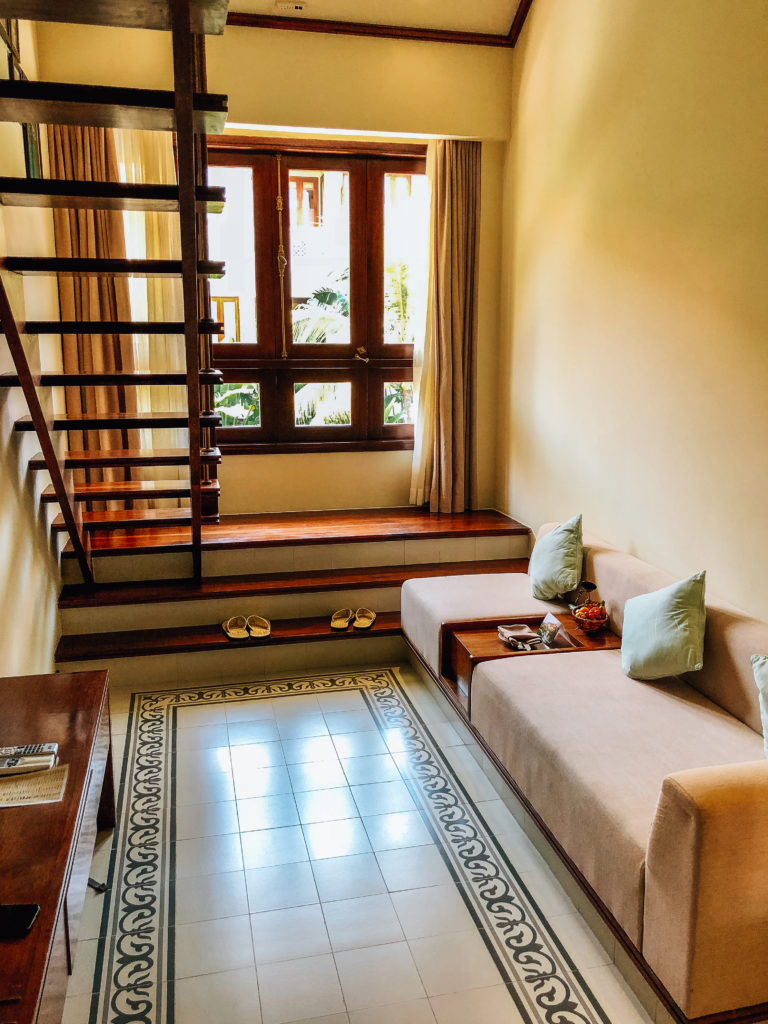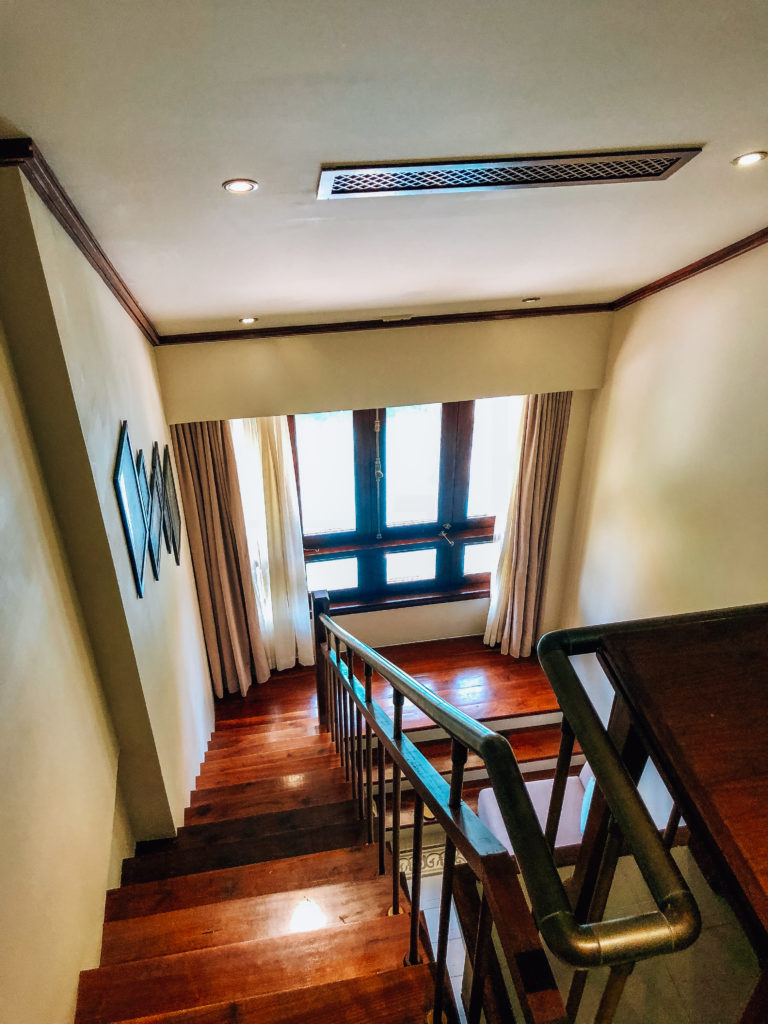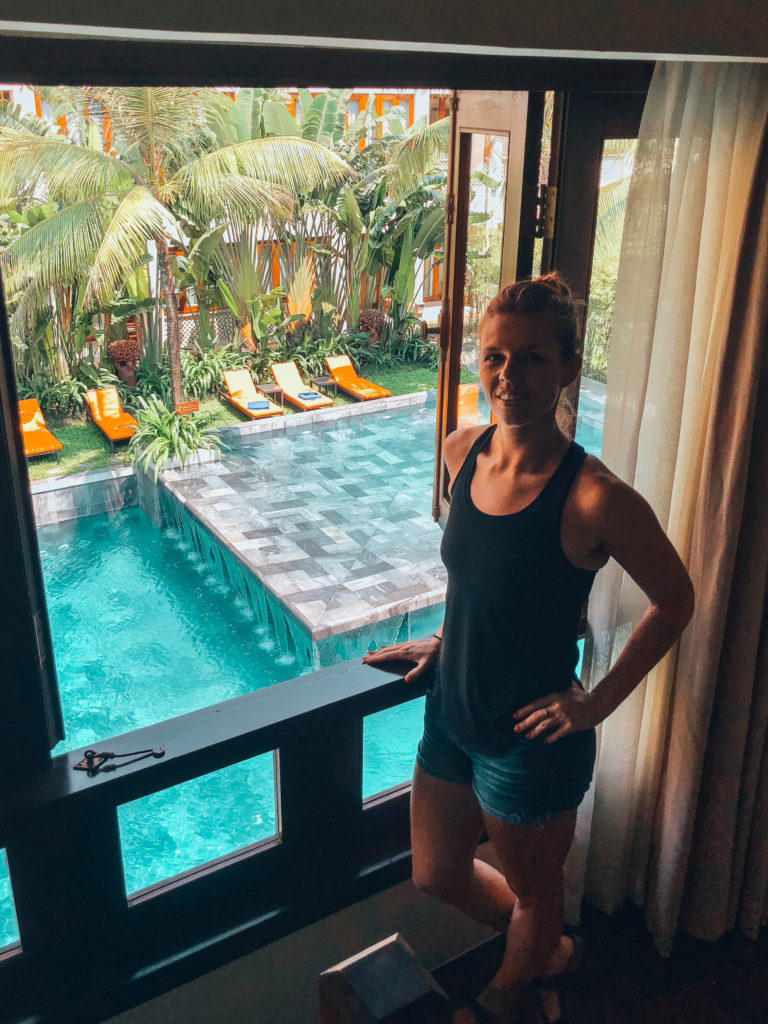 I stayed in the My Spirit Superior room and really enjoyed the loft layout of the room as it was something unique that I haven't seen in other hotels before. My room was facing the pool so the view was quite enjoyable as well. It's seriously hard to believe that the hotel is in the middle of the city because it's so relaxing and serene. Perfect place to unwind!
Food: Hoi An has so many cute places to eat that had good food. For me, each city usually has that one meal that I remember it by (and literally still drool over just thinking about it) and for Hoi An it's hands down Miss Ly Cafe.
For starters, make sure to get the White Rose Dumplings (banh bao). Actually no- just go ahead and get two orders of those because as soon as we were done with the first plate, we ordered the 2nd round. They are SO GOOD that it's indescribable but if you're dying to know what they are… in the menu, white rose is listed as steamed shrimp in rice dumplings with onion, lemon and chili. Also- it's going to be hot… a round of  Vietnamese iced coffees is a must.
The other dish to have is Fried Wontons (Hoanh Thanh Chien). Yes yes… I know what you're thinking- she went all that way to Vietnam to have fried wontons as if the Chinese place down the street doesn't have any. 😑 Well I thought so too but this was a GAME CHANGER. The waiter brought the plant and wait a minute… this fried wontons look like tacos! These fried wontons were stuffed with sautéed meat and topped with tomato, shrimp, onion and magical sauce. Again- take my advice and consider a 2nd round of these as well.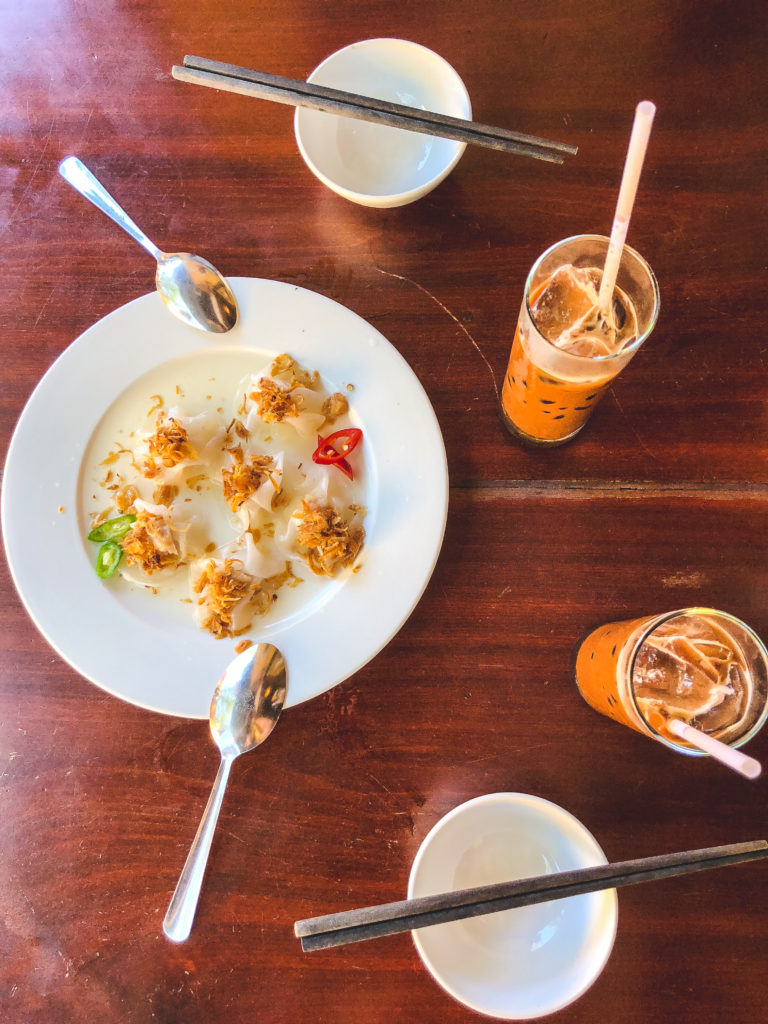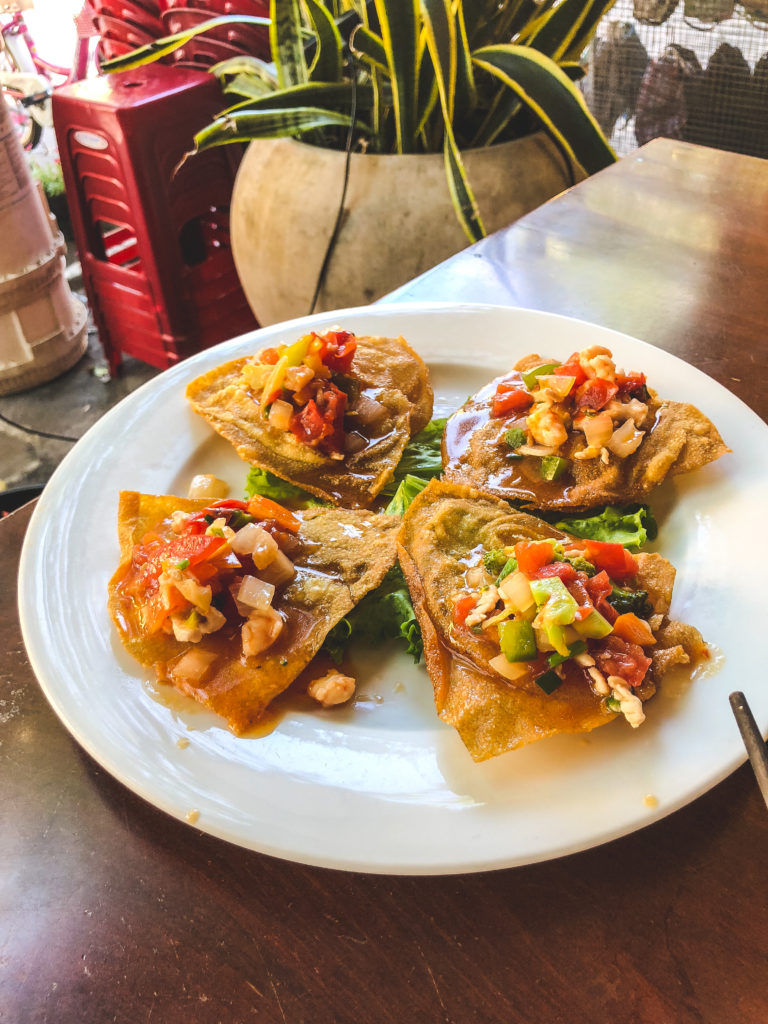 Other restaurants worth mentioning are:
Morning Glory – very close to the Japanese bridge. Great selection of Western dishes and Vietnamese traditional ones
Brother's Cafe – right on the Thu Bon River. It has an inside dining area and an elegant open garden overlooking the river – super romantic and great place to watch the sunset over a drink
The Chef – you'll be able to spot the lantern tree from far away (that's how we found it!). Amazing view of the city and a chill place to grab a drink
Beach: An Bang Beach
Shuttle from hotel – Almanity Hoi An Wellness Resort runs a complimentary shuttle to An Bang beach and provided reserved beach beds for their guests. If you're a beach lover, this is definitely a must and a fun way to spend the day. Most people spend their day at the beach in one place… but we on the other hand walked almost 15miles that day! (So next time I say I like long walks on the beach, maybe you'll know that I'm not kidding?) Also every morning the resort also has yoga classes and tai chi classes in the afternoon- great alternative if you're tired of sightseeing and want to spend a day relaxing in the resort.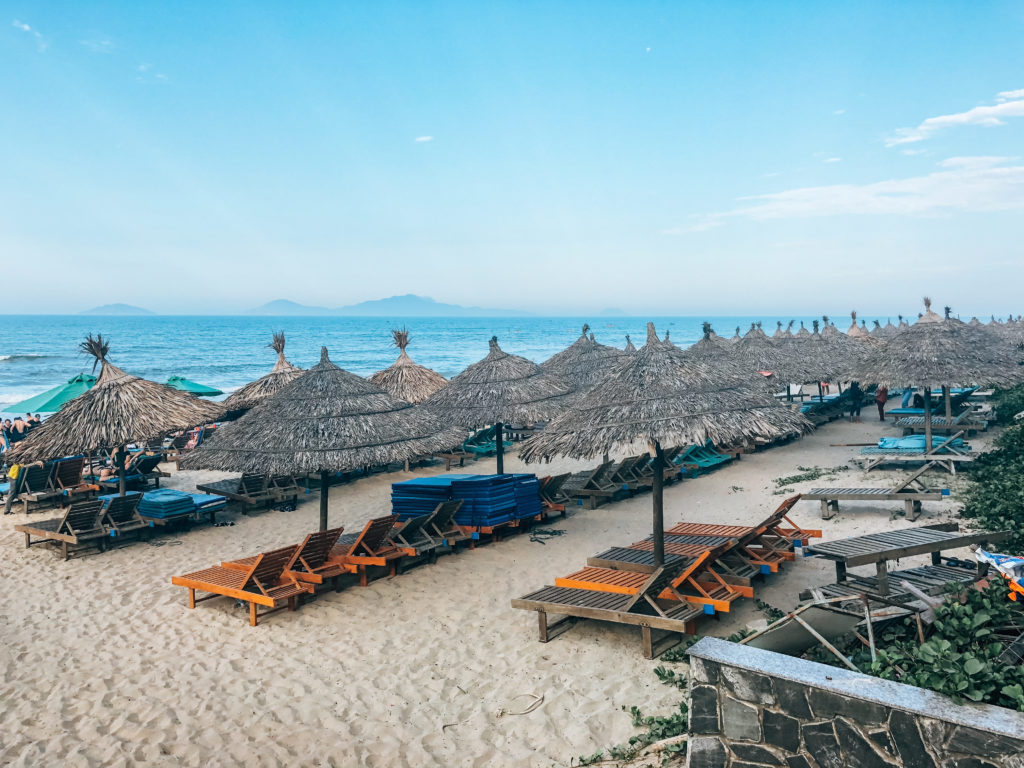 Activities:
Night Market – Hội An's market area is located right when you cross the bridge but in reality, all of this town is one big market. This city is FULL (hold on to your wallets before you spend it all FULL) of cute boutiques and coffee shops. From silk lanterns to woven handbags, you will find it all and then some.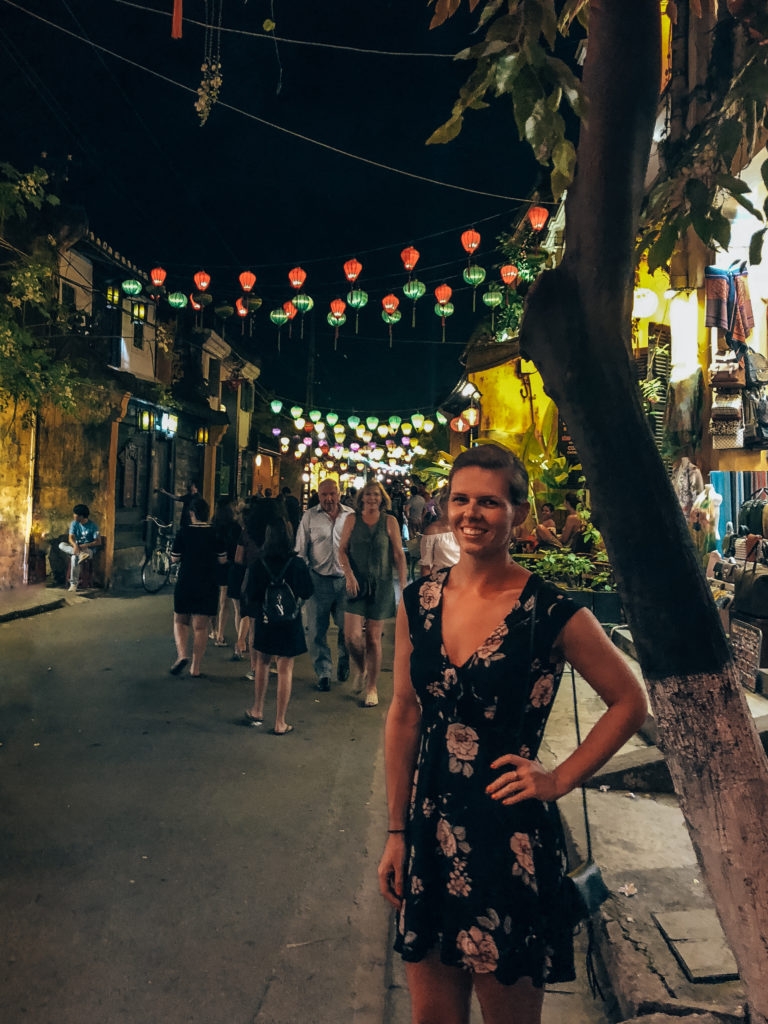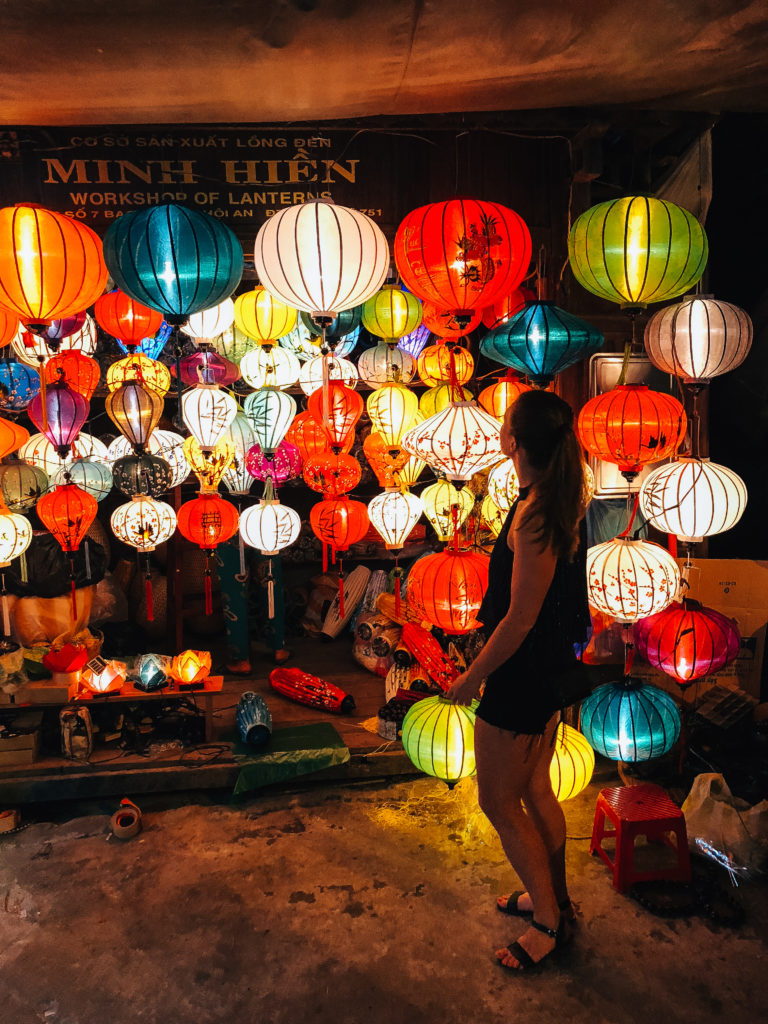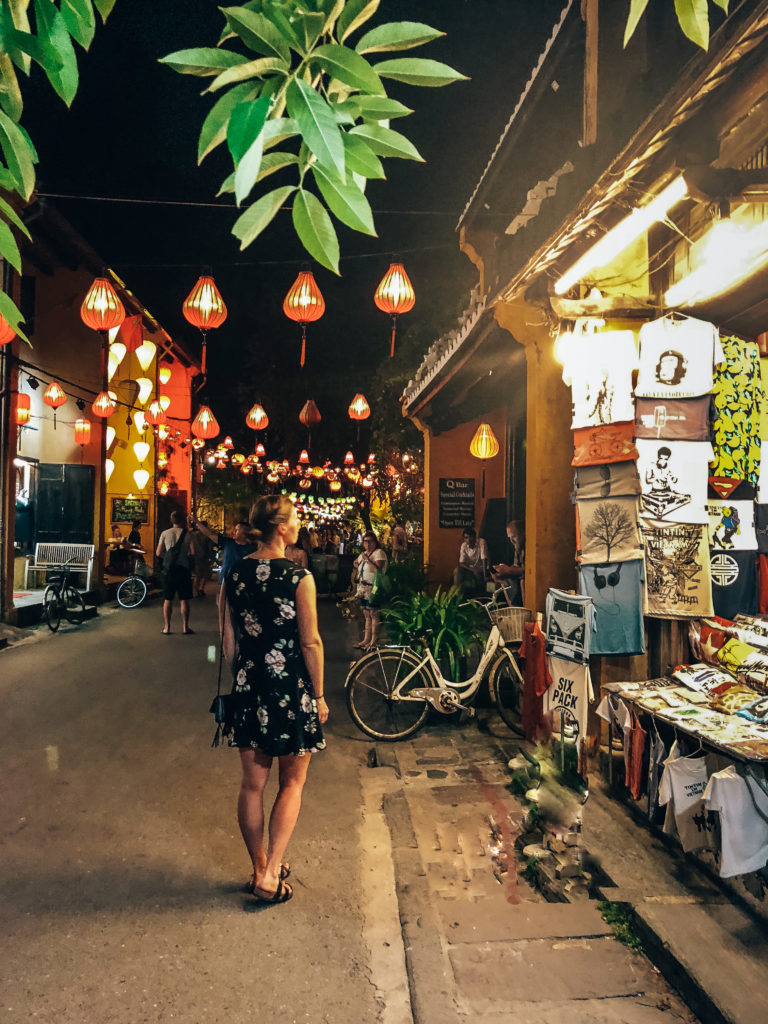 See the bridge and boats – If you have already fallen in love with Hội An- perfect. Go ahead and book your airfare 😀 But I'm here to tell you that this city gets even more beautiful at night (not sure how that's even possible). Around dusk, make your way over to the river and experience something magical. You'll find hundreds of colorful paper lanterns (with a candle at the bottom of each) floating down the river and tourists in little boats trying to get that amazing photo. I opted out to spectate from the river bank but it was still a beautiful tradition to see.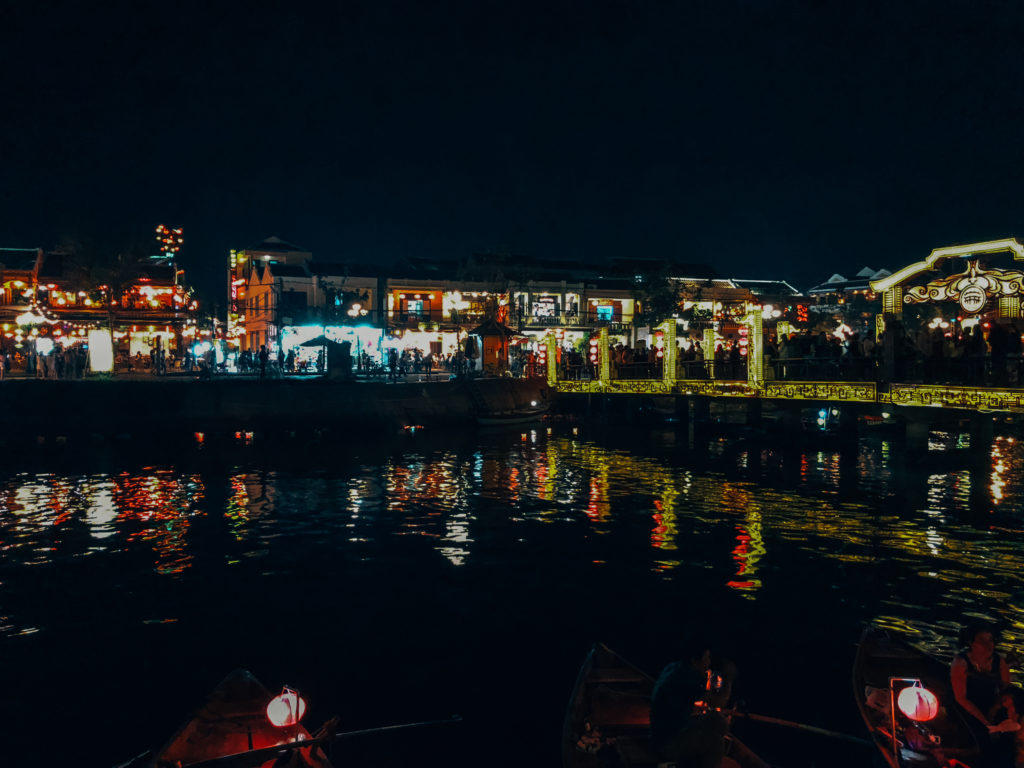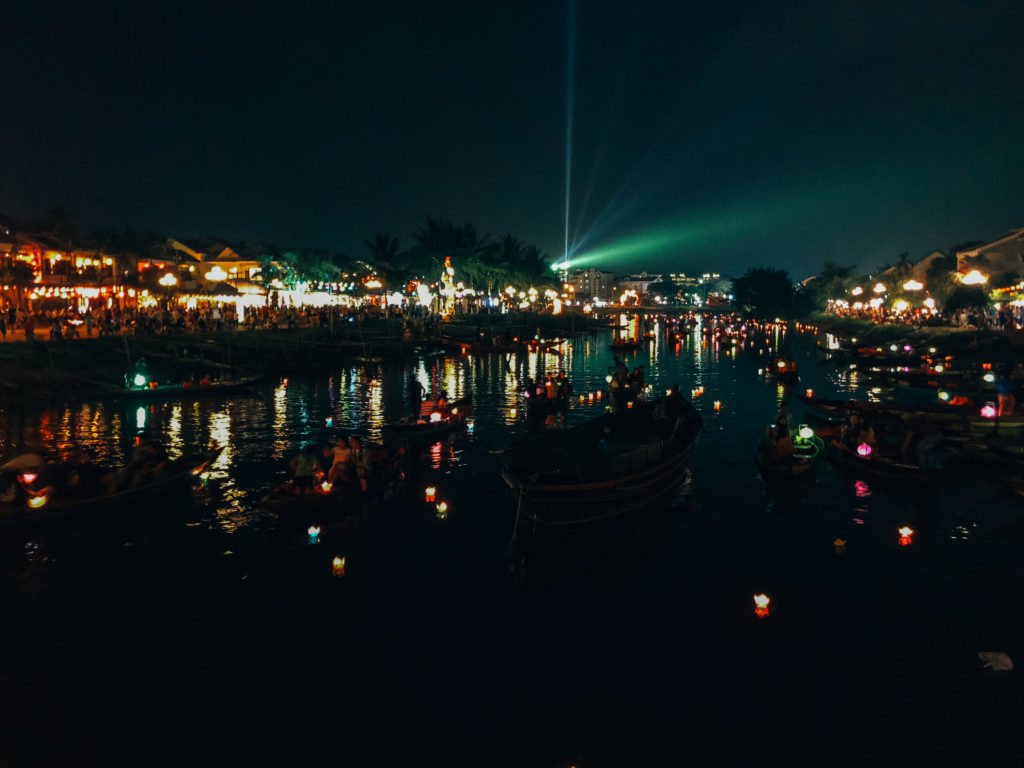 To be honest- I went from being skeptical about Hội An to ABSOLUTELY loving it! I highly recommend including it on your Vietnam itinerary simply because this UNESCO- listed town has a bit of everything: culture, beach, beautiful architecture, lots of lanterns  and those dumplings (don't forget them!)
I was welcomed as a guest by Almanity Hoi An Wellness Resort. As always all opinions are my own.
PS. the dress is from Indigo Rose – a cute boutique in Ithaca, NY!