During my travels, I've met many fellow travelers who have raved about Singapore and its futuristic characteristics. Since I really enjoyed spending time in Dubai , another man-made fantasy land, I figured it was worth spending a weekend in Singapore and giving it a try!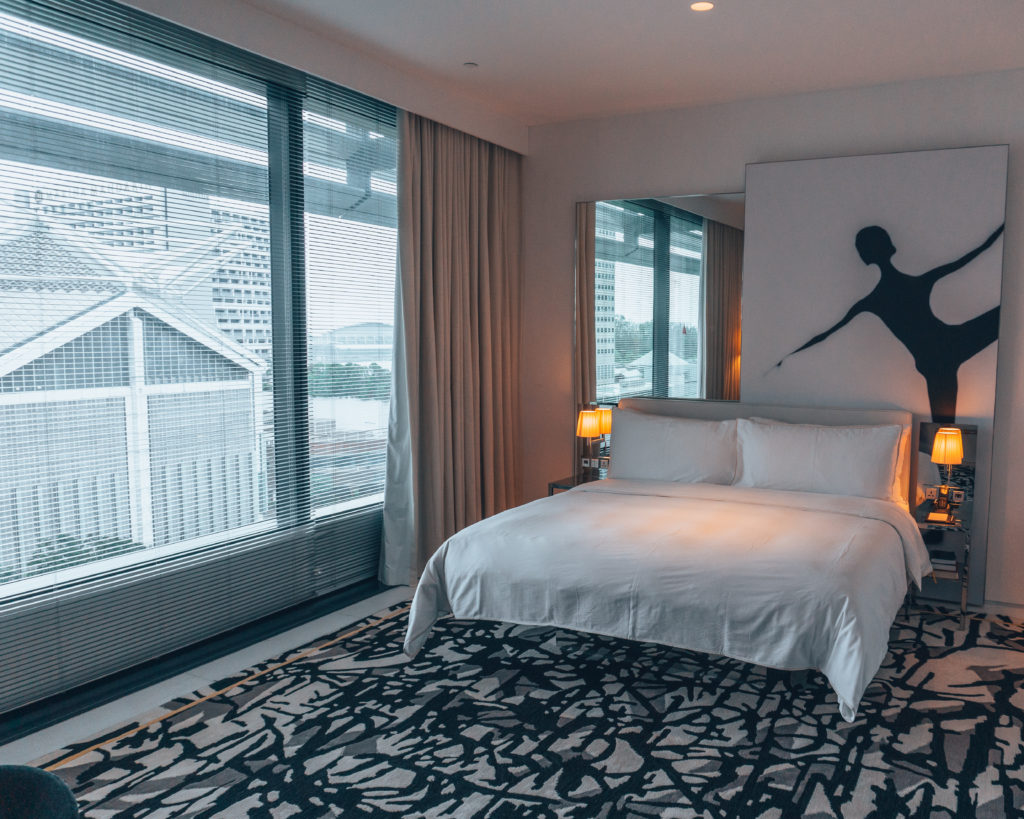 This modern upscale hotel is located in South Beach, Singapore's new lifestyle district. It's conveniently located just north of the harbor and steps away from the Esplanade MRT metro stop, making it a quick journey to any of Singapore's top attractions. As you'd expect from any of the hotels under the JW Marriott brand, this property does not disappoint in the luxury category. The contemporary style seen in the main lobby continues throughout the whole property and into exquisitely designed rooms.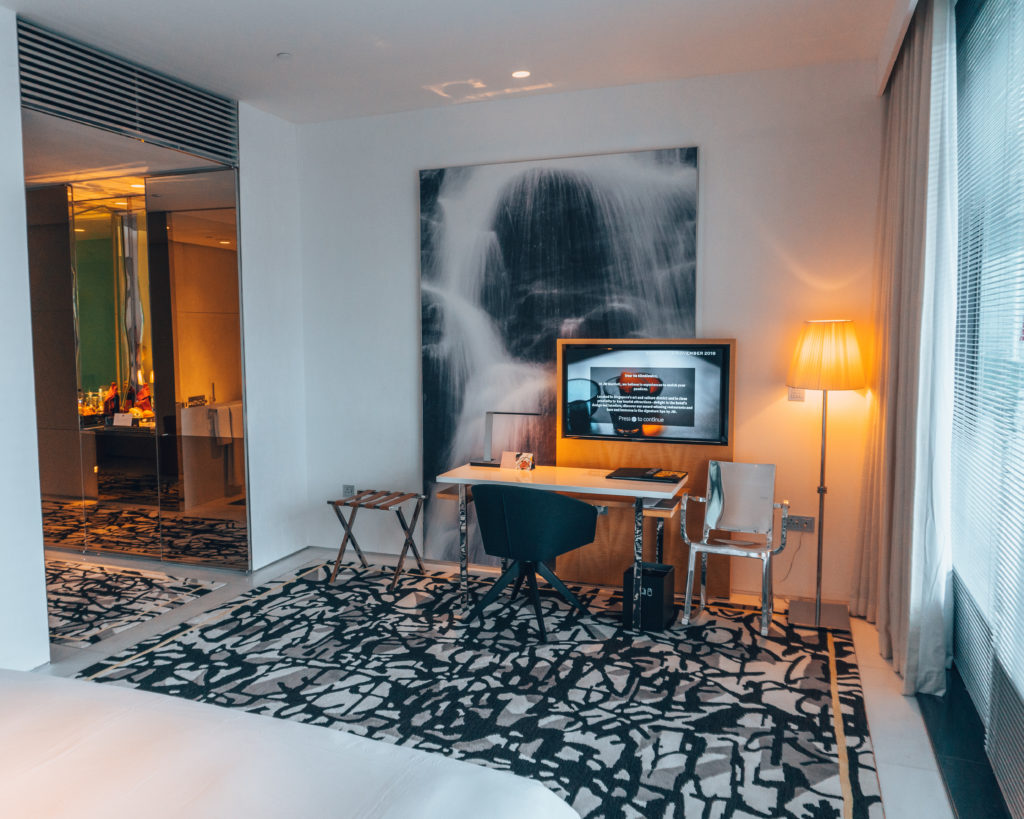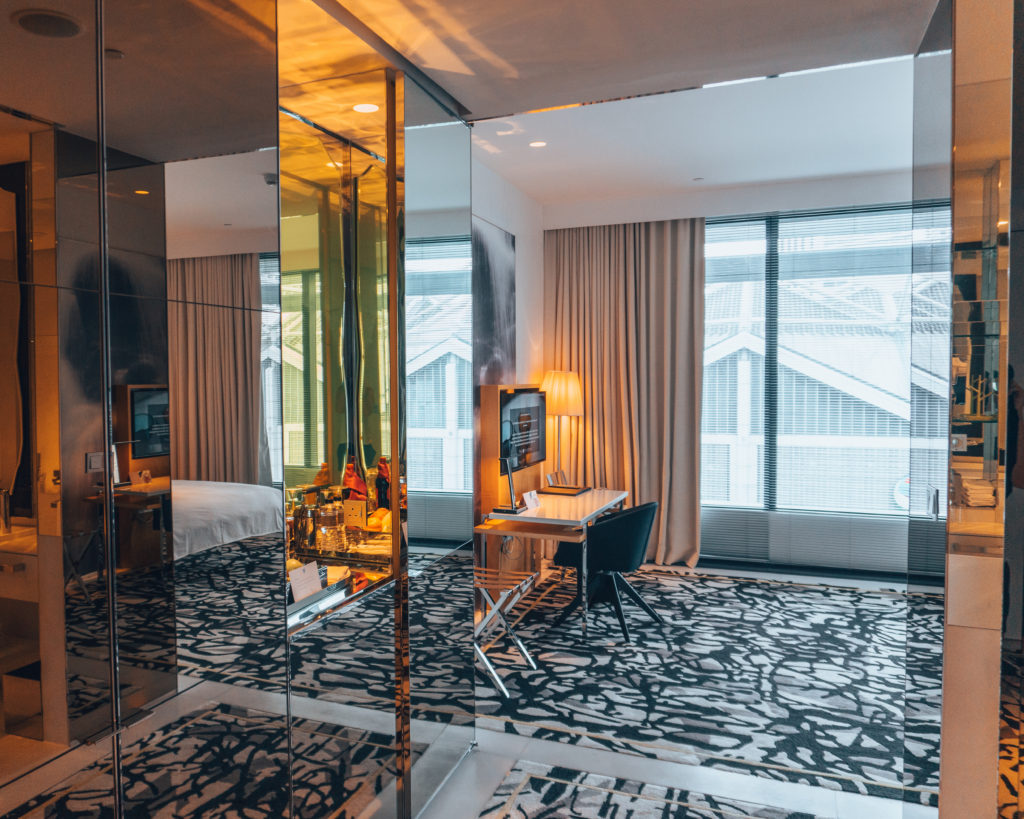 During the stay, we had the opportunity to experience the Club Premier Room on the 10th floor. From the edgy carpet to green-tinted mirrors, the modern décor was evident in every corner of the room. The bathroom had a spacious shower and a beautiful soaking tub which unfortunately I didn't get a chance to use! I personally really enjoy modern style, so I was quite happy with the look right as I entered the room.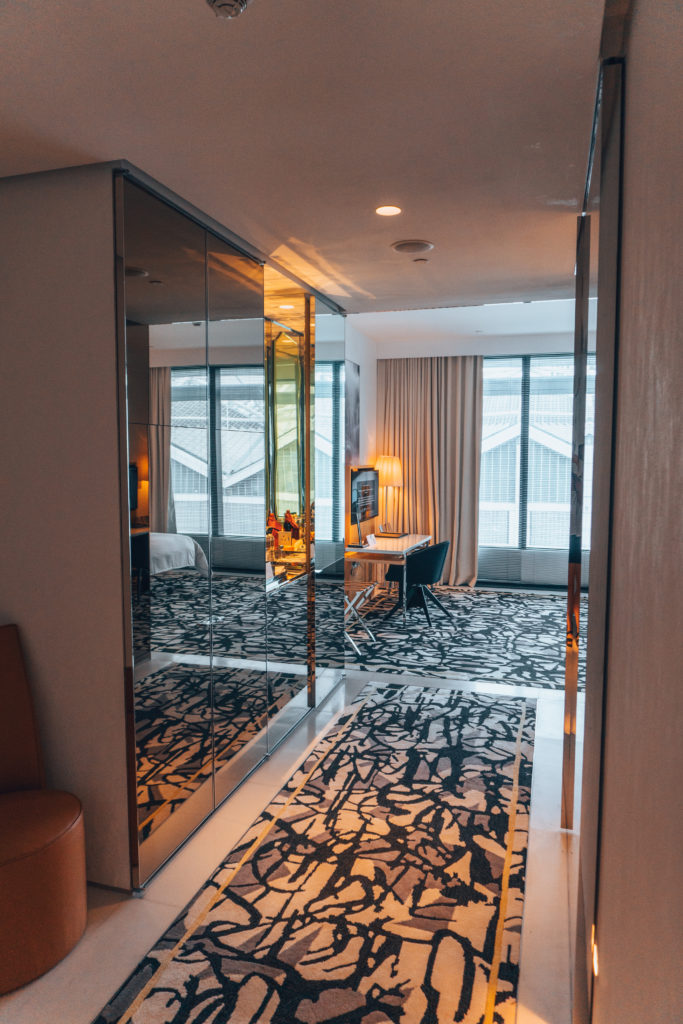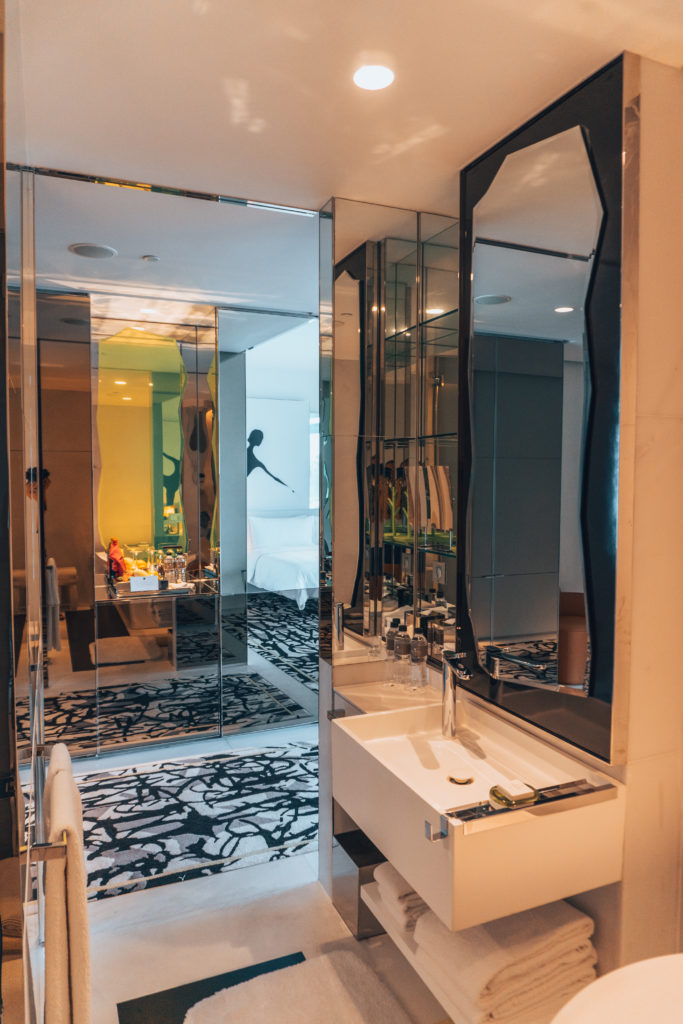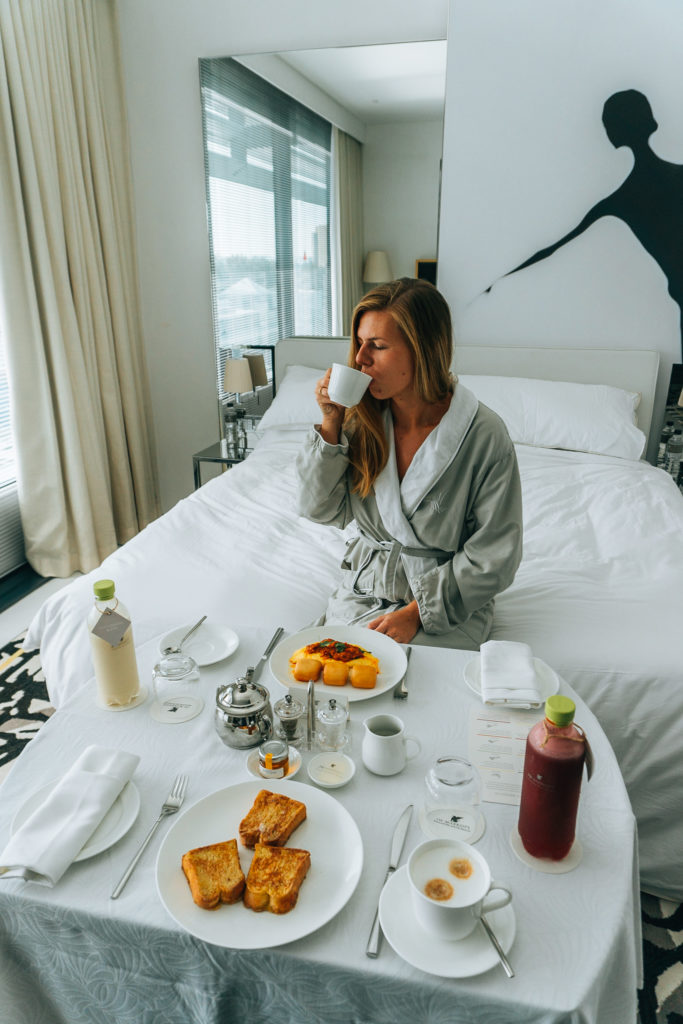 The daily breakfast is served at Beach Road Kitchen offering endless options for all. The buffet featured an extensive selection of juices, baked goods, multiple cuisines of dishes and of course traditional breakfast favorites. There was even a make your own noodle bar which was pretty unique! One of the mornings, we opted for the in-room breakfast service and it was a nice change to enjoy breakfast in my robe! Personally, I prefer going to the breakfast buffet myself as I love having many options, but this was a great change to the usual routine.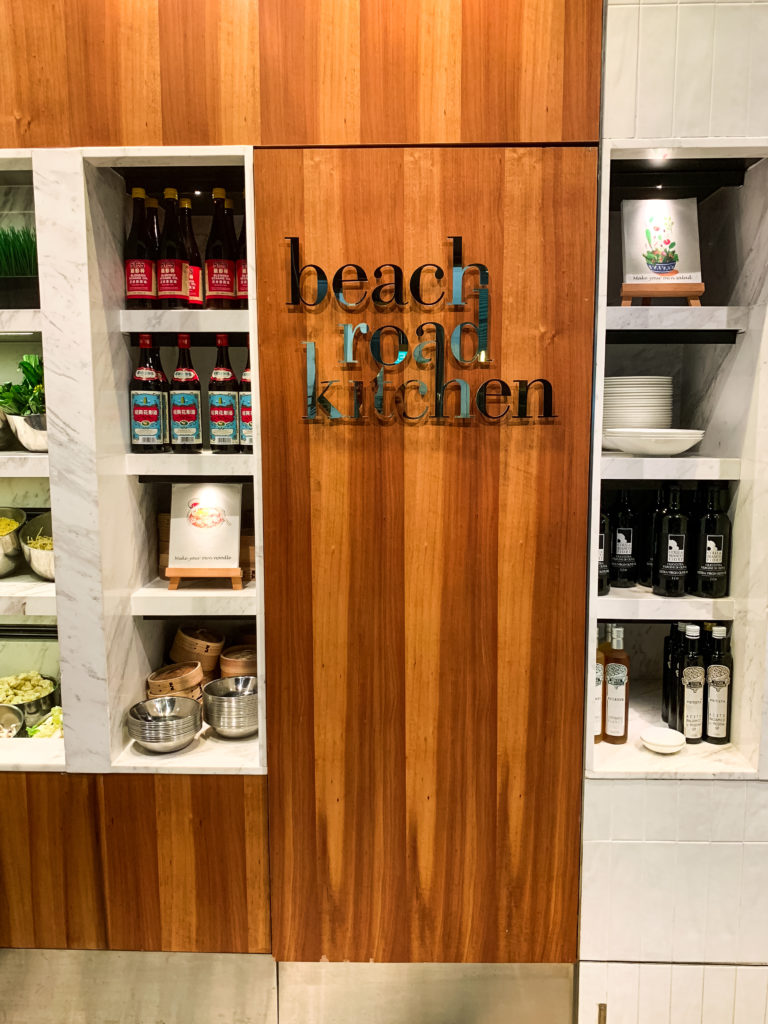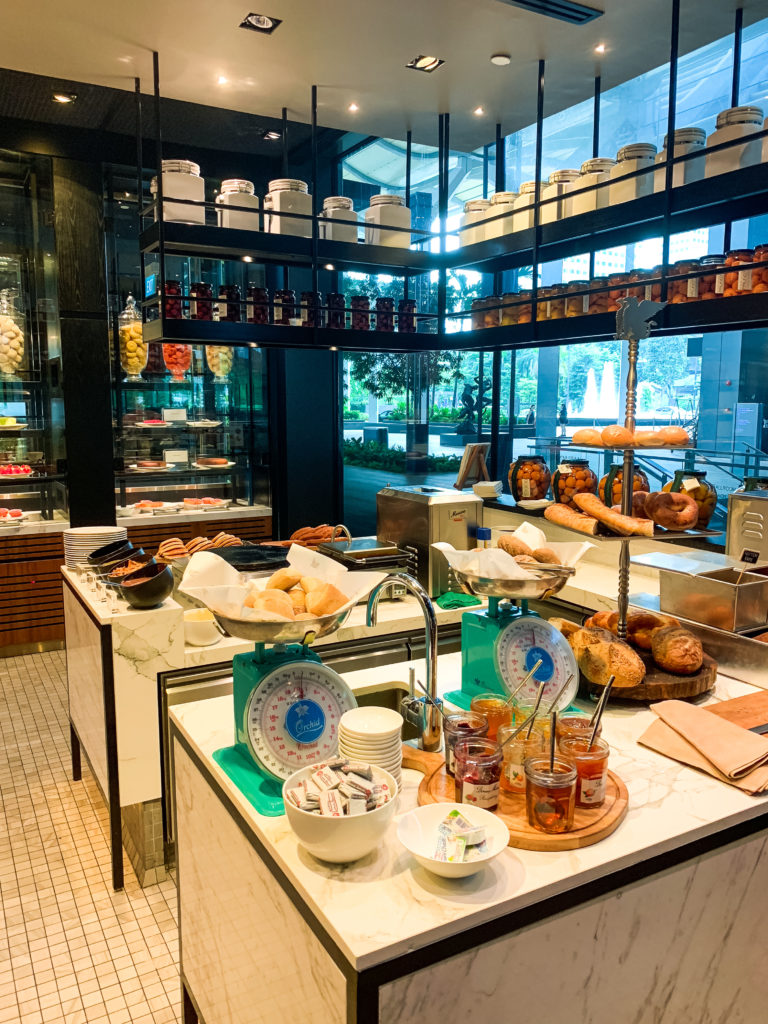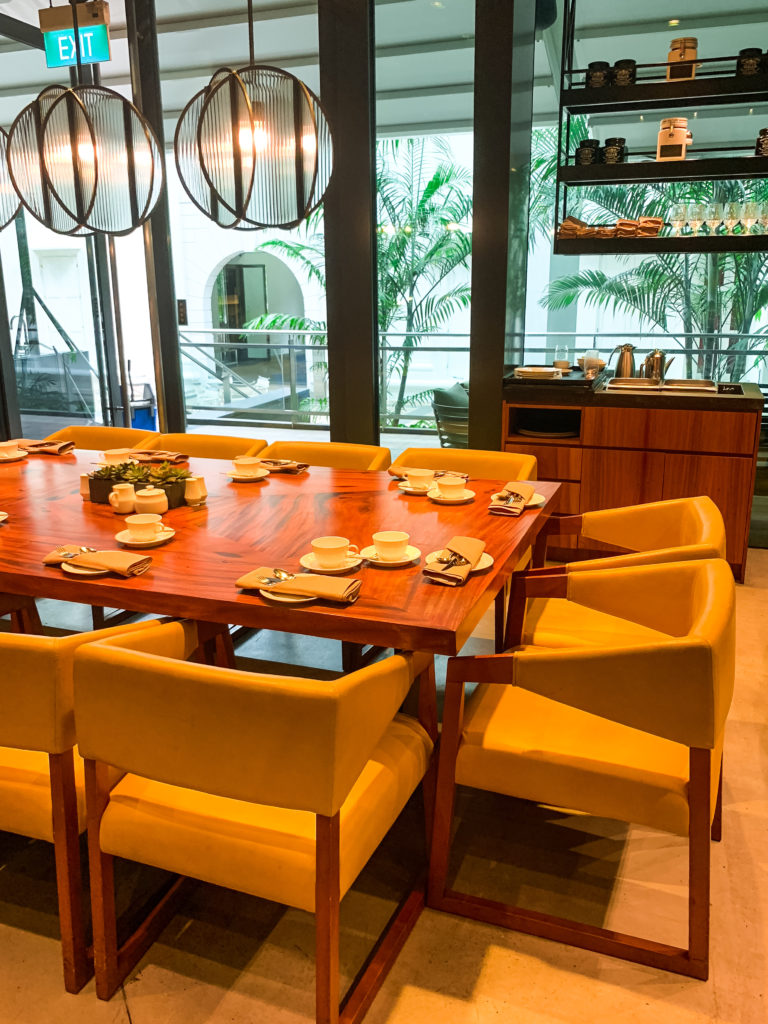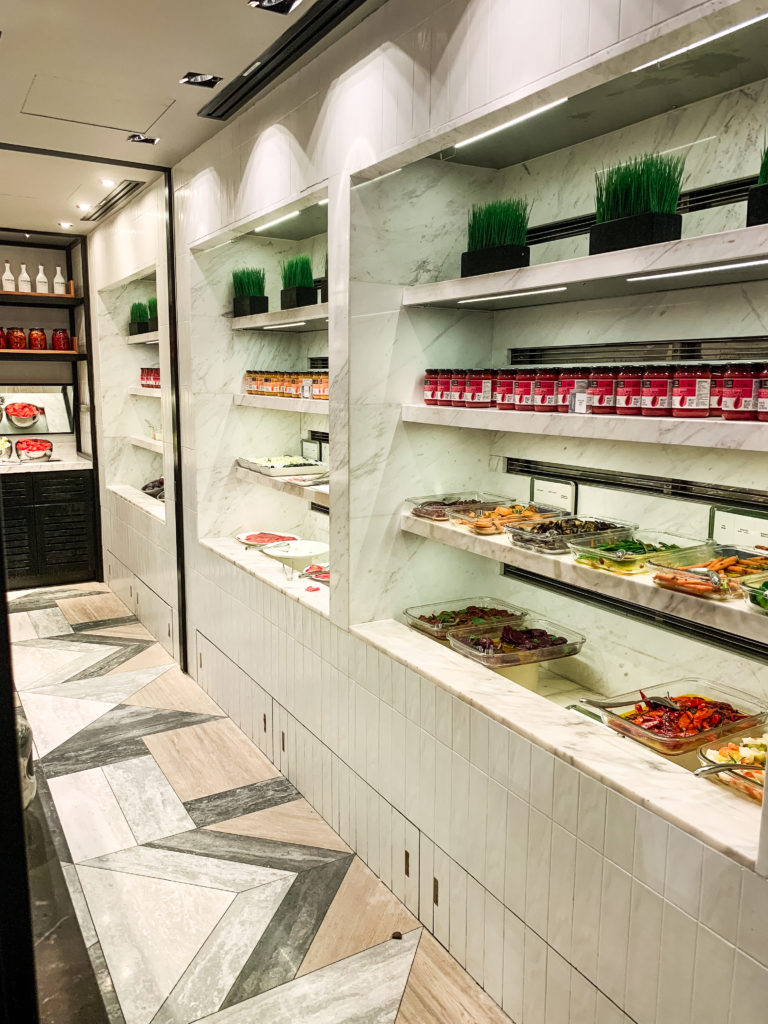 There are a few things in life that I'm absolutely obsessed with and chocolate is ranked very highly on that list. After setting my bags down, a very special gift was delivered to my room and I couldn't have been more thrilled. It turns out that the chef at Beach Road Kitchen is also an avid photographer so when he heard that I'm staying at the hotel, he molded a camera out of a block of chocolate for me! I have stayed at many hotels during my travels, but this was the most personal gift that I've ever received.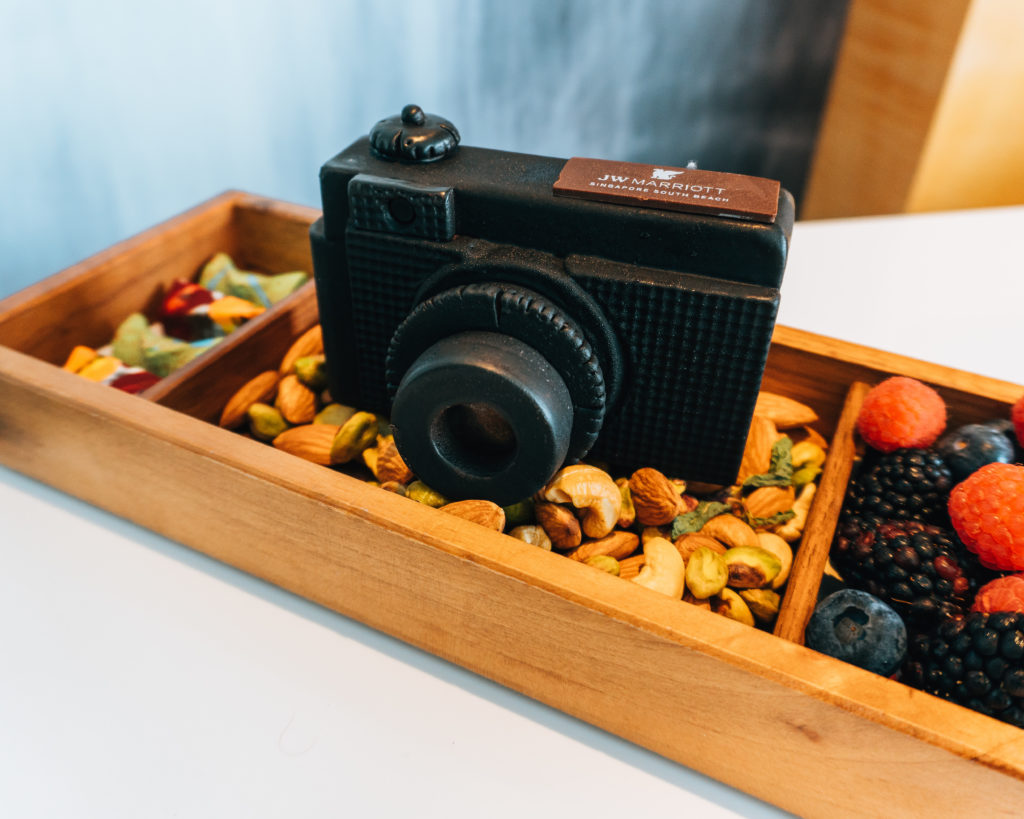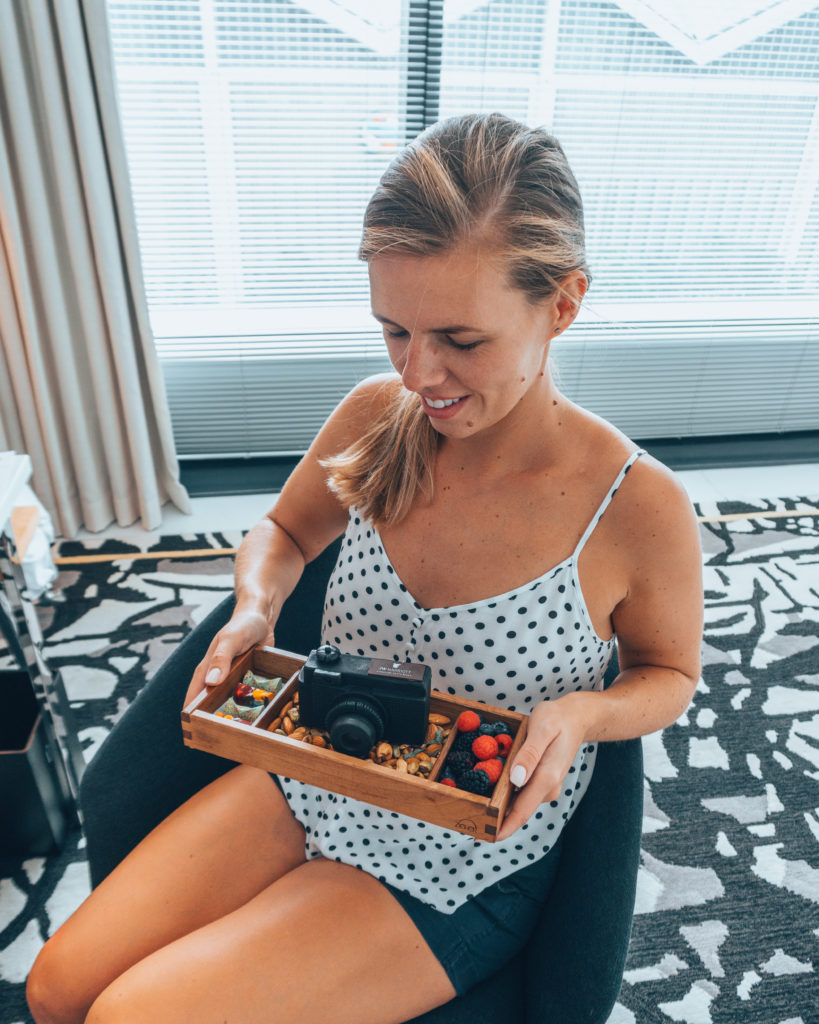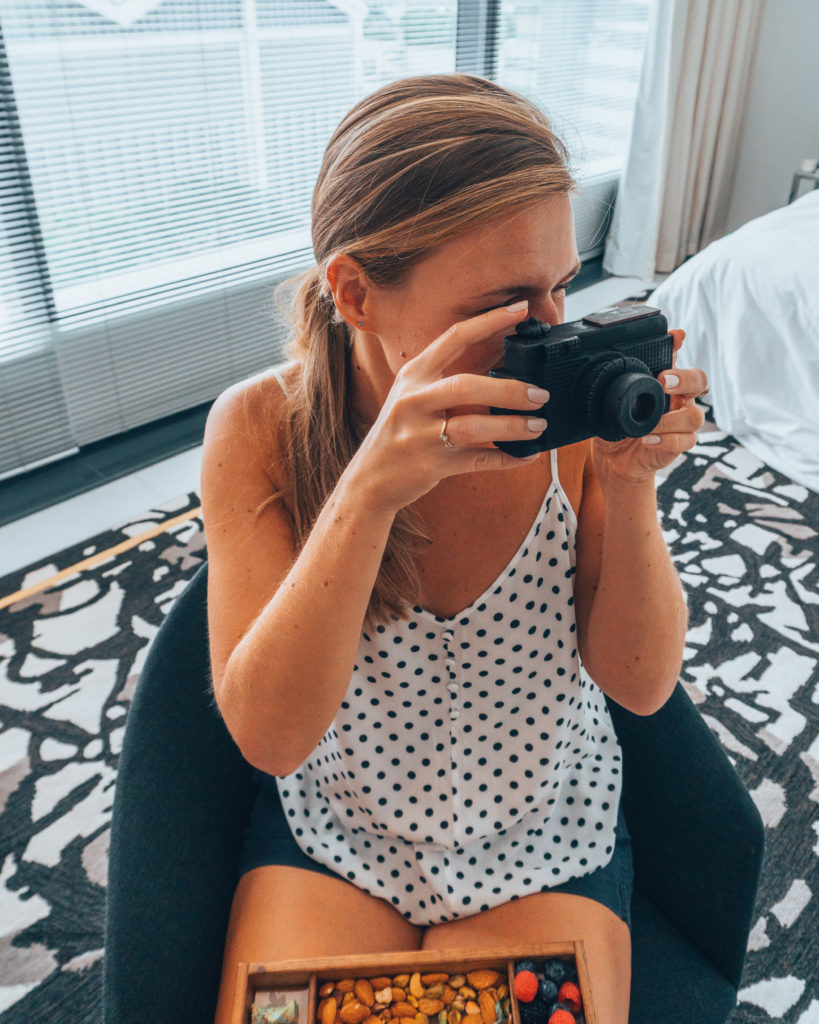 Our room also came with access to the Executive Lounge which was easily the best stocked lounge that I've ever been to. With breakfast, afternoon tea, hors d'oeuvres and evening cocktails offered, I practically could live there! I was very impressed with the variety of cold-pressed juices offered when I went to catch up on my emails one afternoon. If you're visiting Singapore for business or pleasure, JW Marriott has got you covered! There is a fully equipped gym, two swimming pools and plenty of outdoor lounge areas for you to choose from. Head up to the 18th floor to visit Flow18 and soak in Singapore's skyline from the breathtaking infinity pool.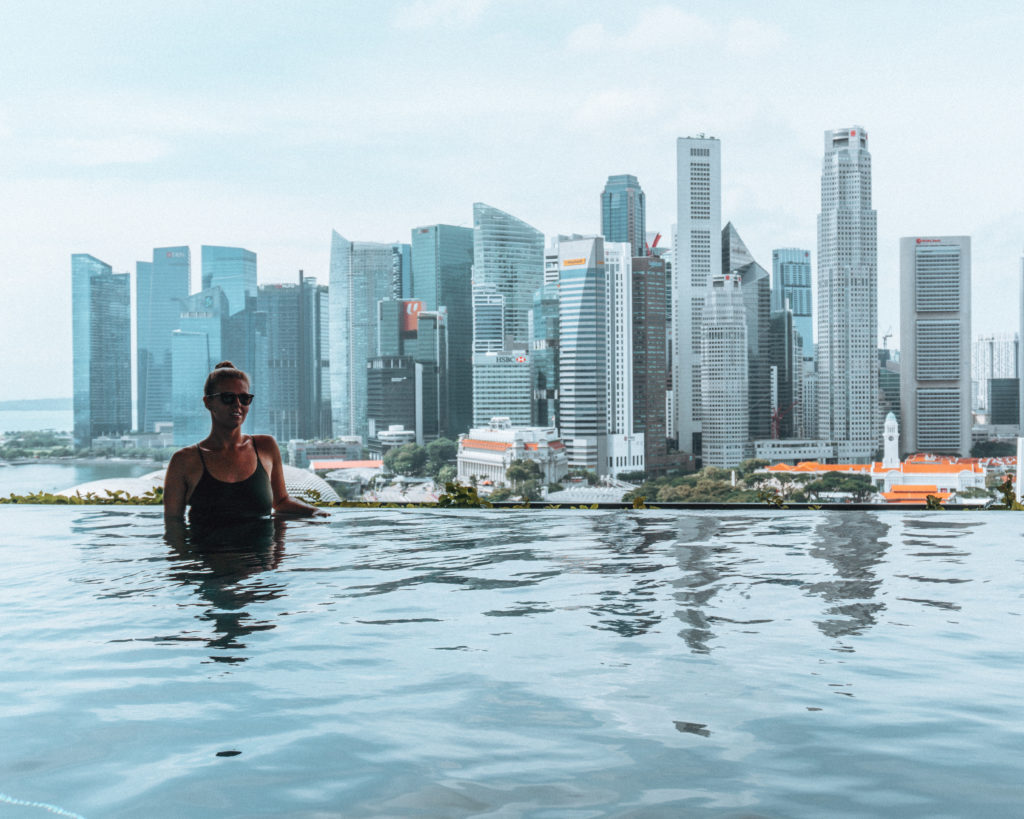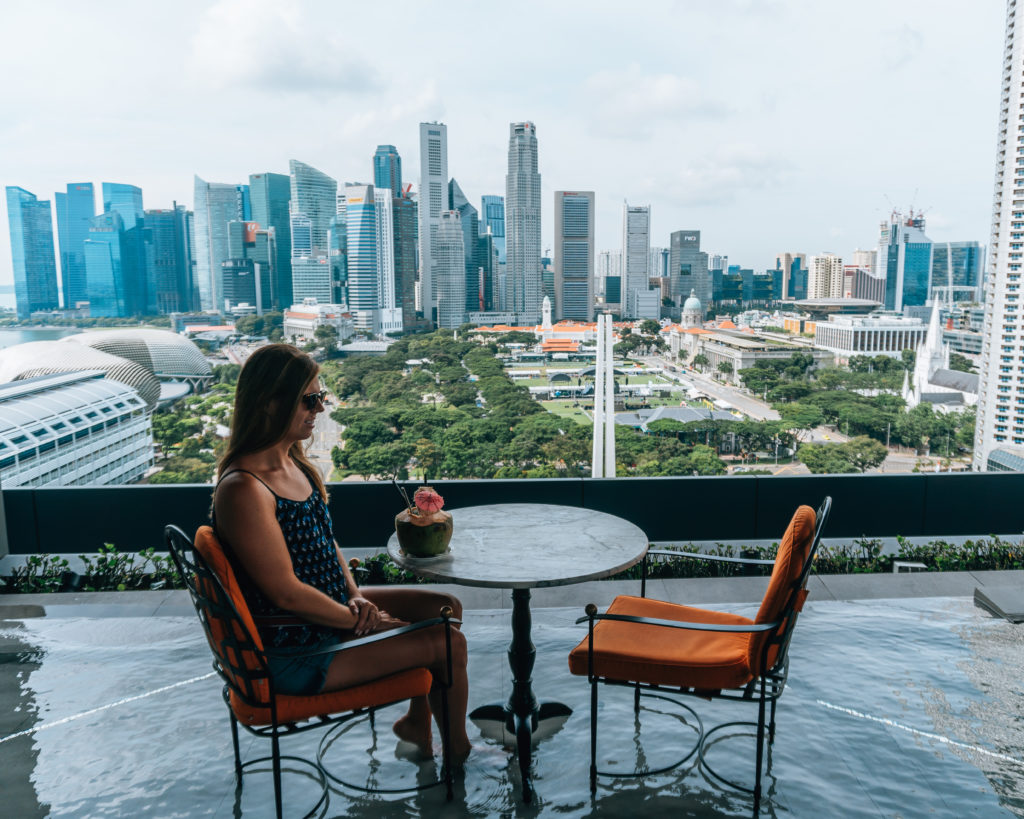 There is also a table set in the pool where you can enjoy a drink while keeping your feet cool in the water. After a long day of exploring Singapore, we had the chance to experience the Signature Massage at the Spa by JW. The spa locker rooms are equipped with a sauna, steam bath and a jacuzzi to enjoy post treatment which made the whole experience even more enjoyable.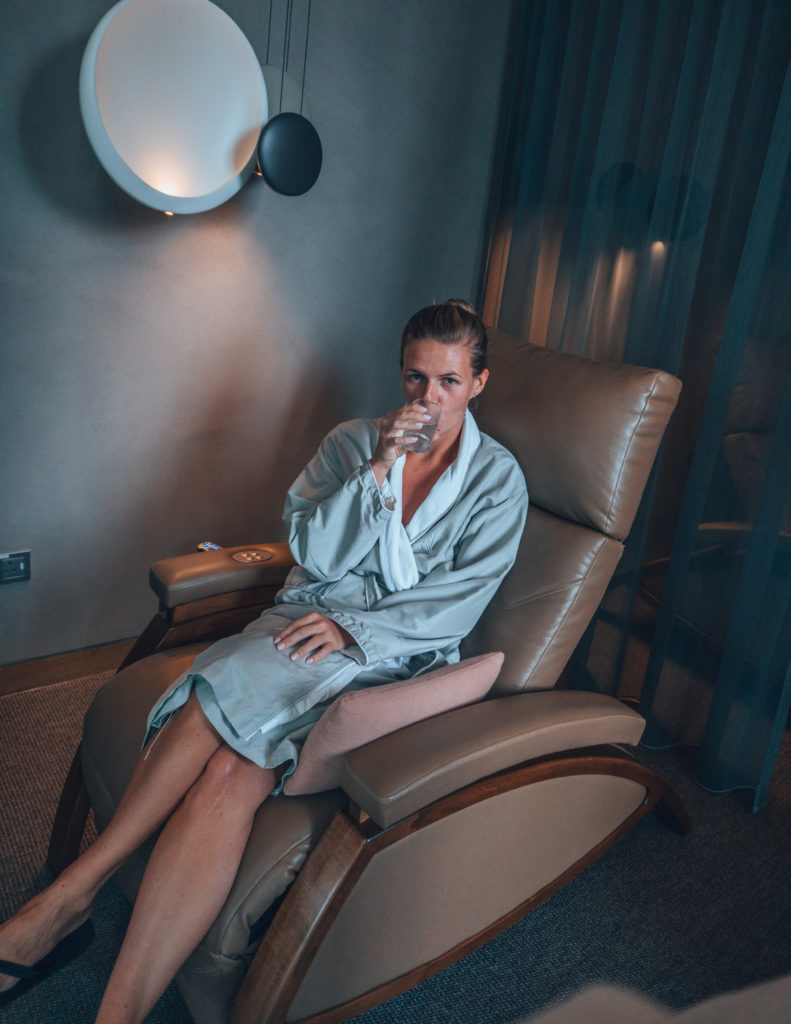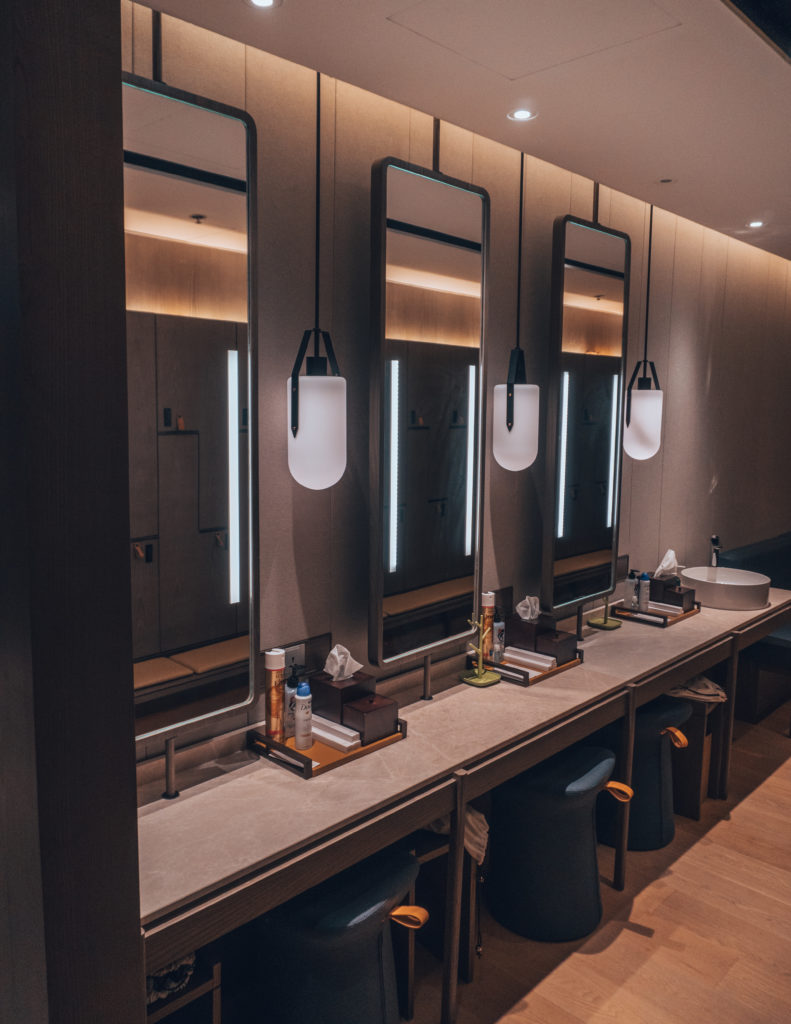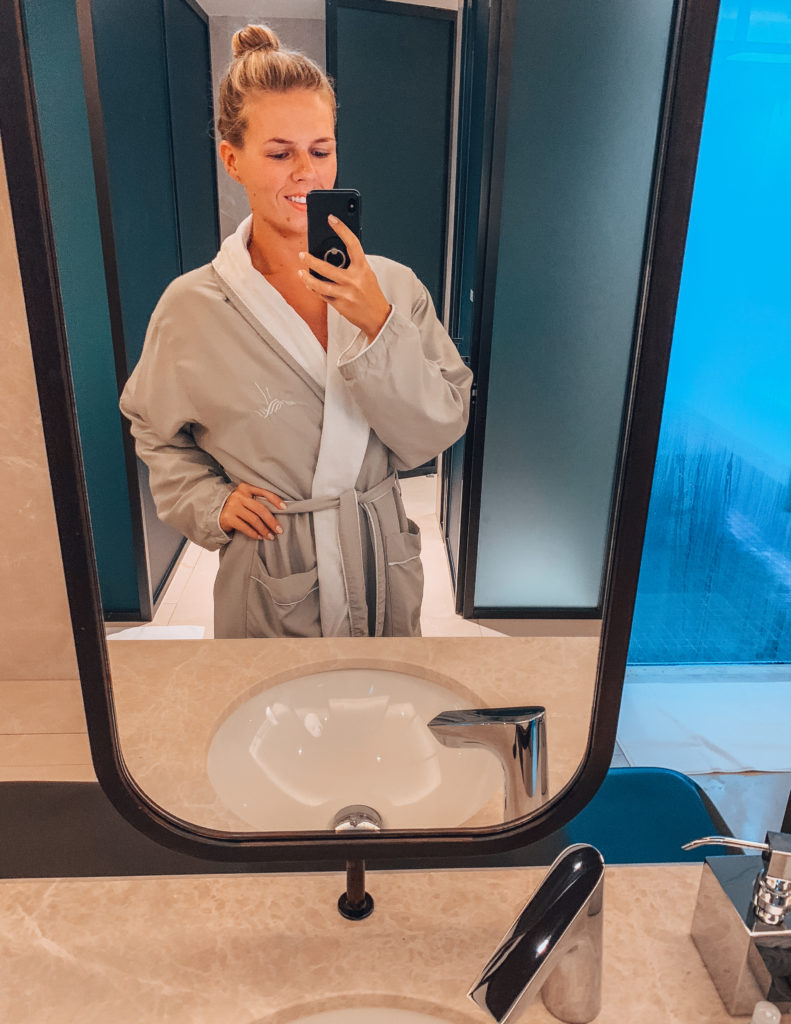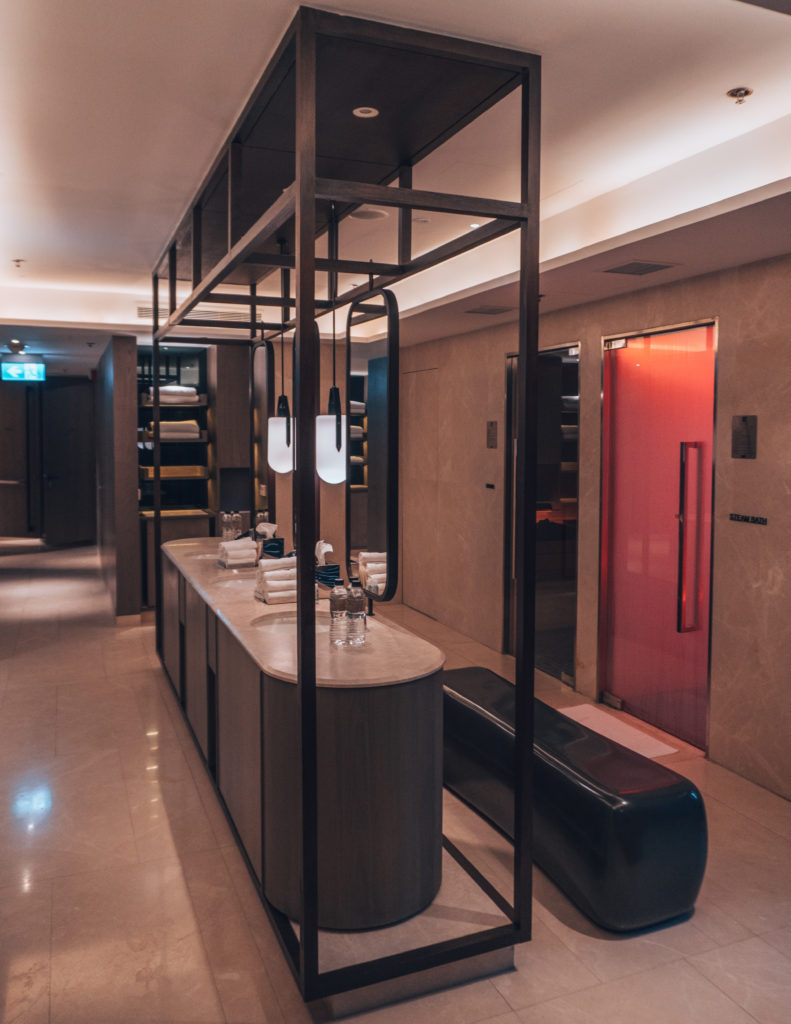 JW Marriott South Beach is hands down my top pick for hotels in Singapore, whether I come back for business or pleasure, I'll be sure to stay here again!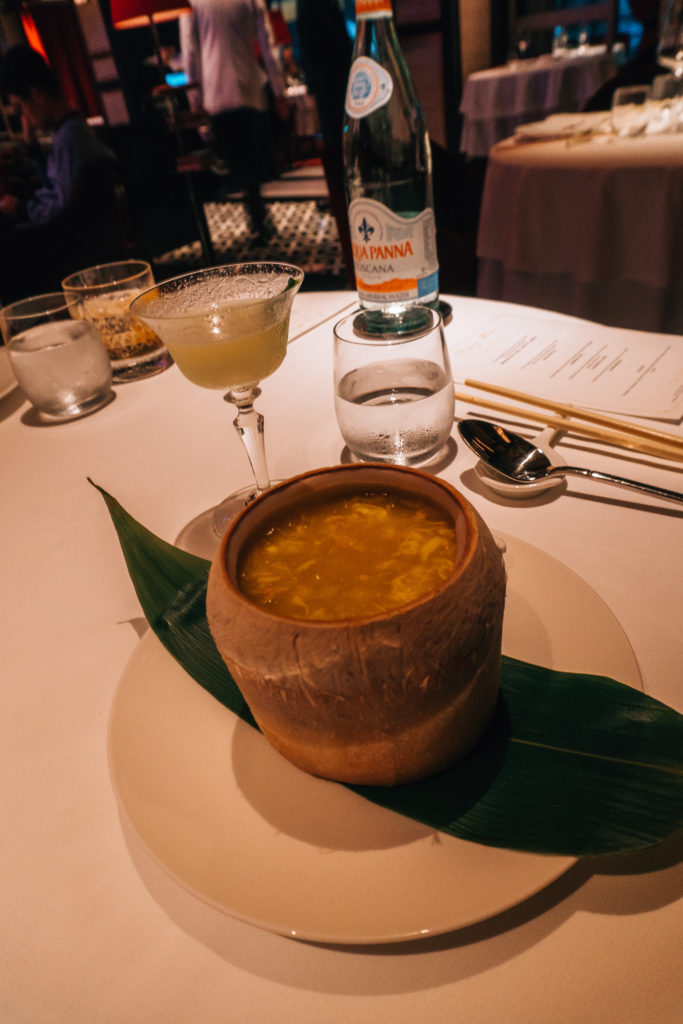 As you exit the elevator and enter Madame Fan, I knew we were in for a serious culinary experience. The décor of the main dining area was spot on – outfitted in vintage red furniture, mirrored walls and an intricate center ceiling light feature all contributed to the elegant ambience of the place. Madame Fan is Alan Yau's interpretation of new era of Chinese dining and we couldn't be more excited to be a part of it for dinner.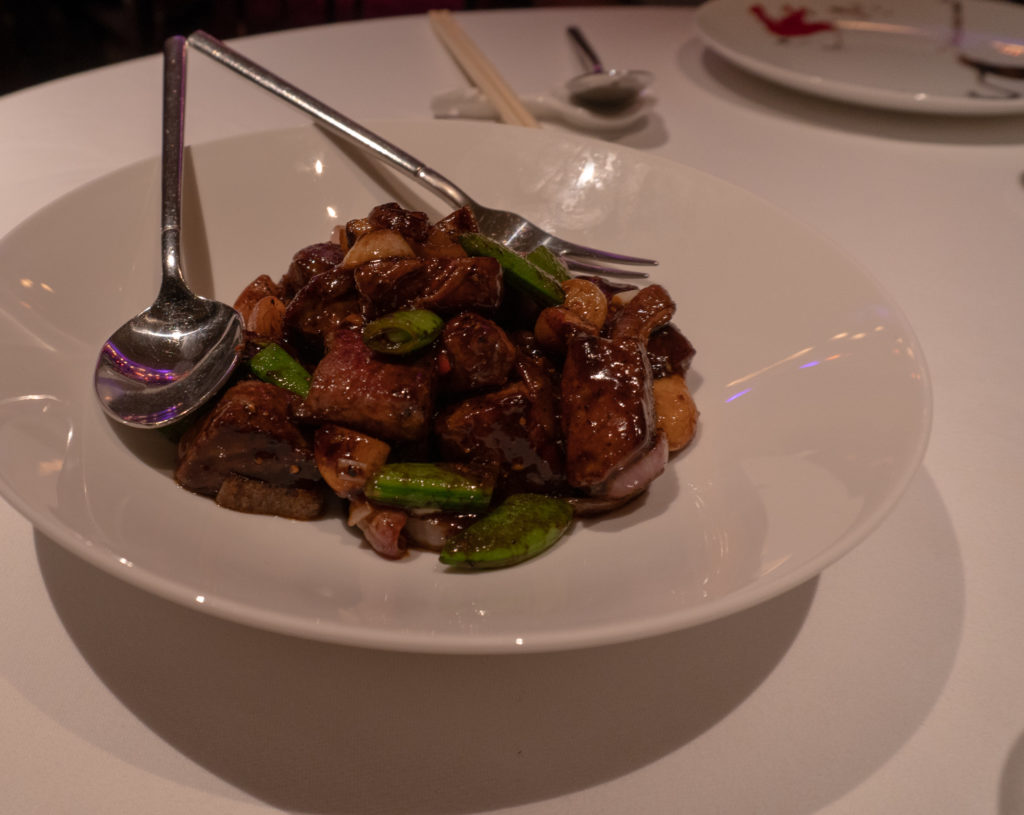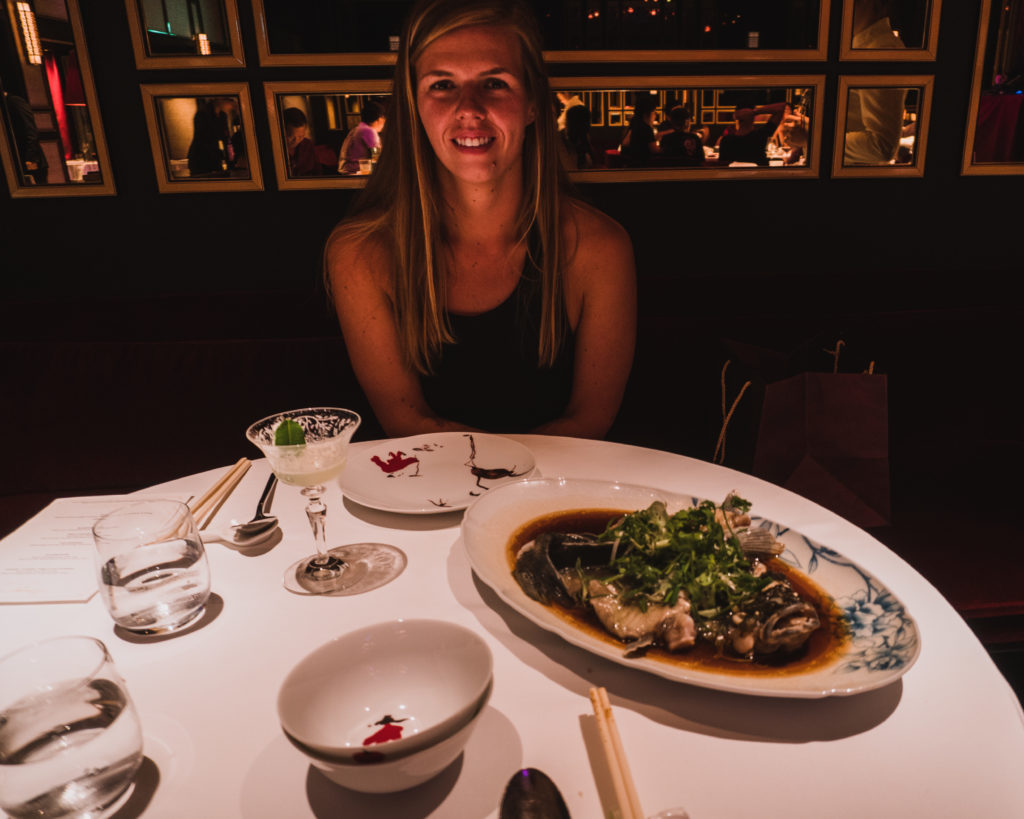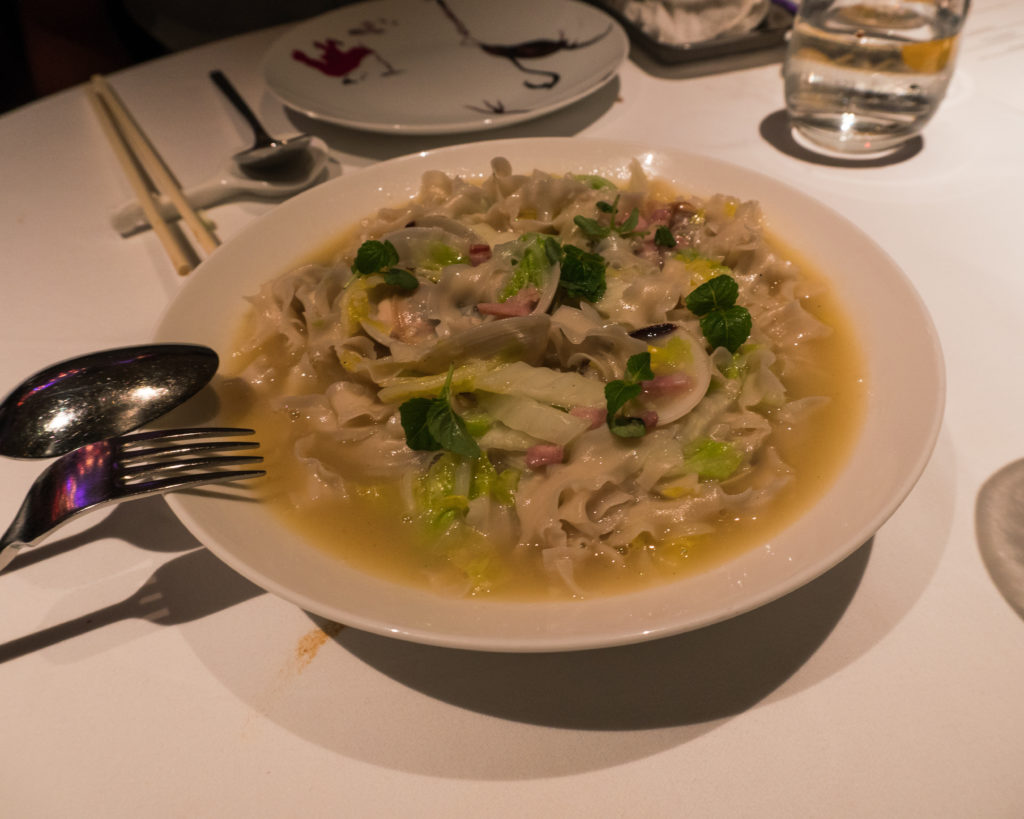 The first course on the set menu was the Crispy Aromatic Duck with baby cucumbers, spring onions, pancakes and duck sauce. The duck was so crispy and tender making the makeshift wrap a delight to snack on. Honestly- it was very hard not to eat all of the duck since we had many dishes ahead of us. The Four Treasure Soup was next and I was pleasantly surprised how creamy it was. The three mains to share (Pepper Beef, Steamed Soon Hock and Handcut Taiwan Noodle) offered a great variety of textures and flavors. I really enjoyed how well spiced and tender the Pepper Beef was. The Handcut Taiwan Noodles were a pleasant surprise but to be completely honest, we barely touched them as we were so stuffed already! The raspberry sabayon with hazelnut crumble finished the meal and I was rather thankful that it was a very light dessert after such a feast of a meal. Overall, it was great to try dishes that I wouldn't have typically ordered myself. I command Mr. Yau's take on Chinese dinning and am eager to try his other establishments during my future travels.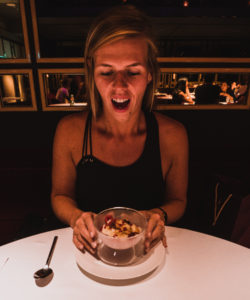 In my book, there is nothing better than a kickass weekend brunch and Akira Back is the perfect place for it. This contemporary Japanese restaurants with hints of Korean influence is located on the basement level of the JW Marriott.  Akira Back's brunch set menu 'A Japanese Affair' – is an interesting take on a typical Japanese meal featuring eight dishes to complete the feast. OK so what can make this brunch even better? Well, if the table orders two of the set menus, you receive a complementary bottle of Italian Prosecco!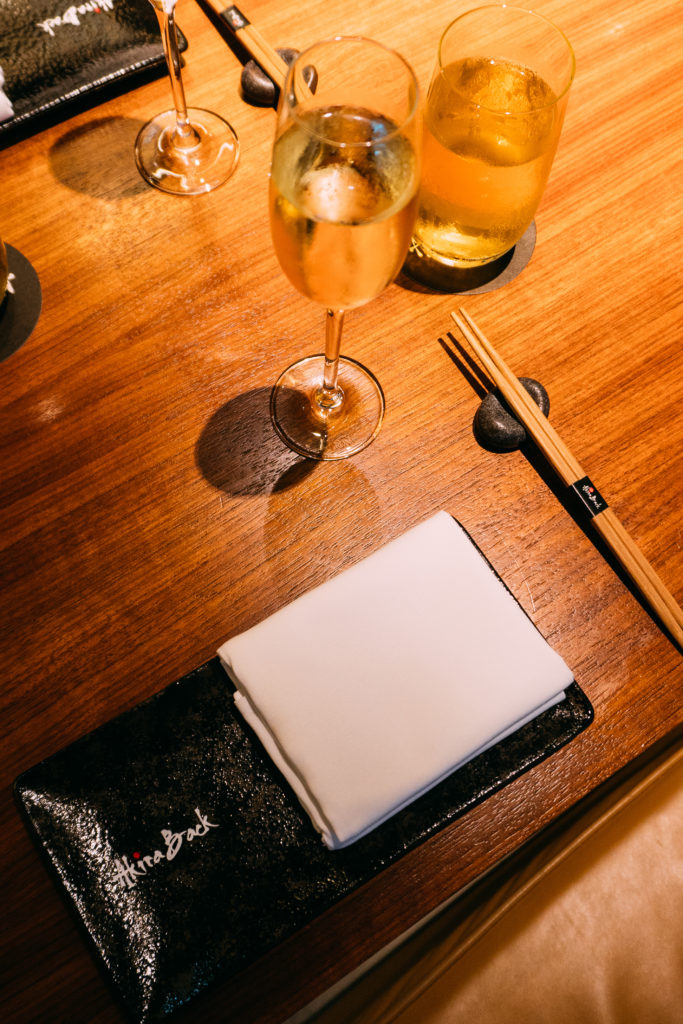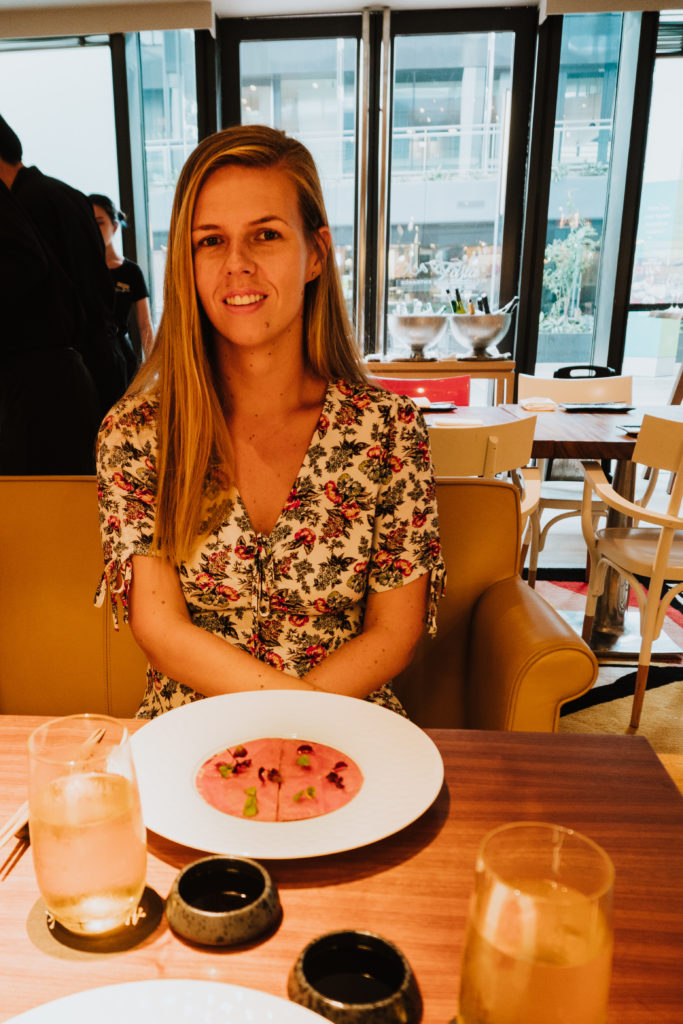 Here is a list of what we had:
Tuna Pizza – wafer-thin crust topped with tuna and drizzled with truffle oil. So deliciously crunchy!
Zensai – Soup or Salad. I had the salad with root vegetables and ginger balsamic dressing.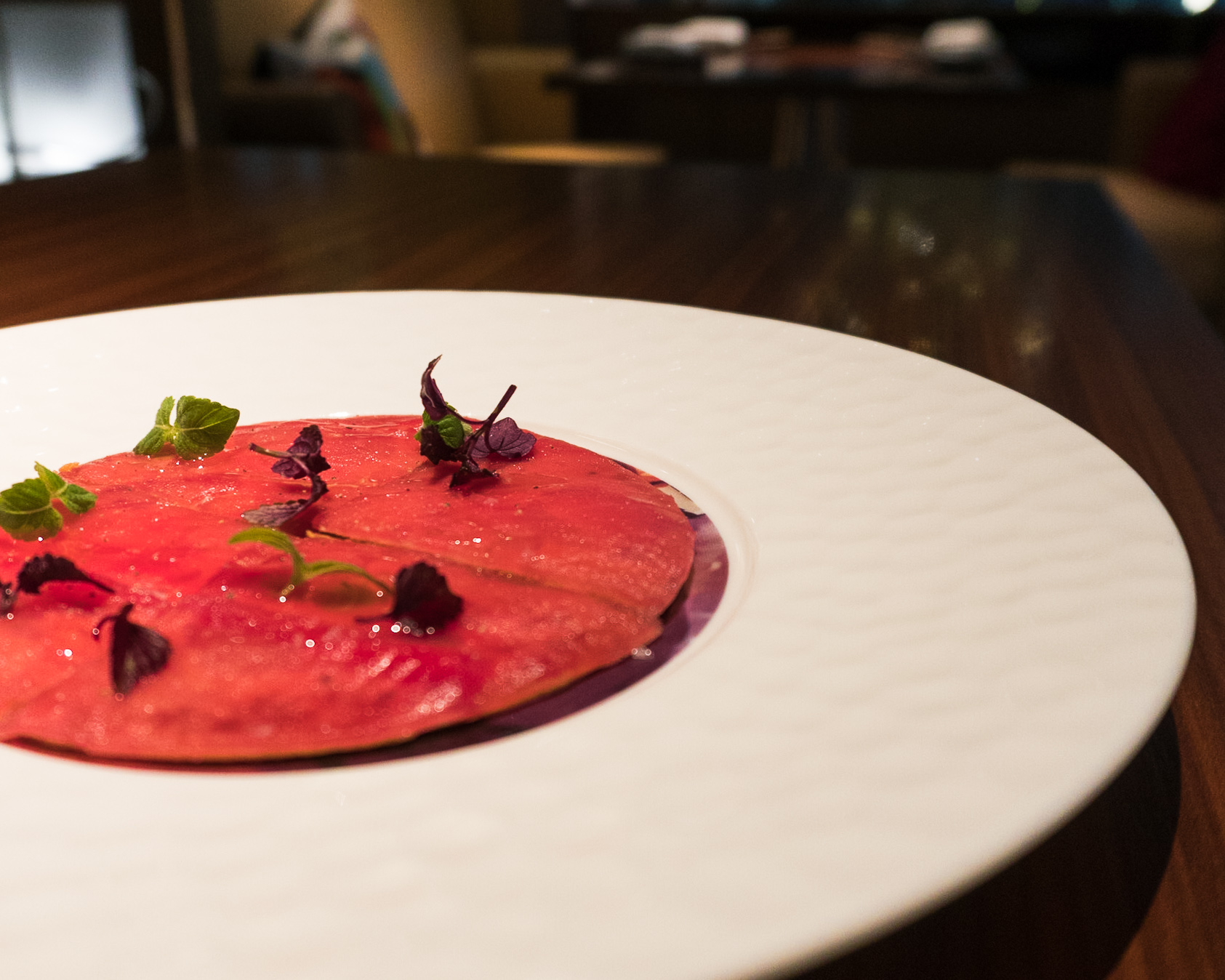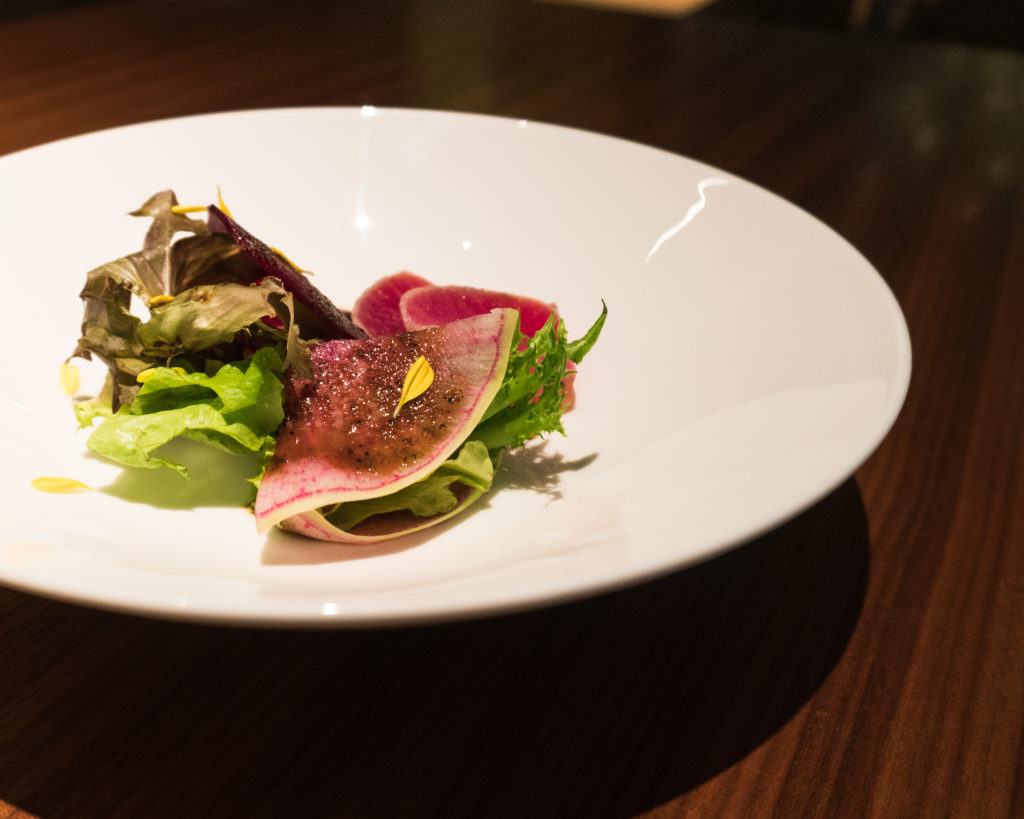 Sakana – Sashimi + Sushi. Probably the best presentation of sashimi I've ever had! But I preferred the sushi more.
Agemono – Tempura. Mix of seafood and veggies with delicious dipping sauce.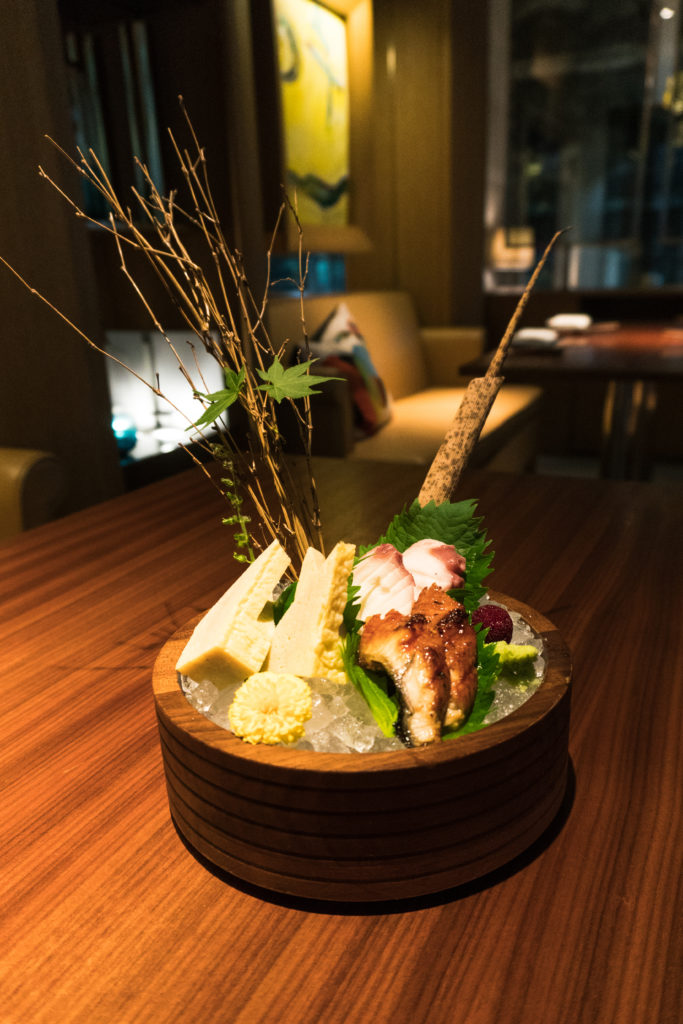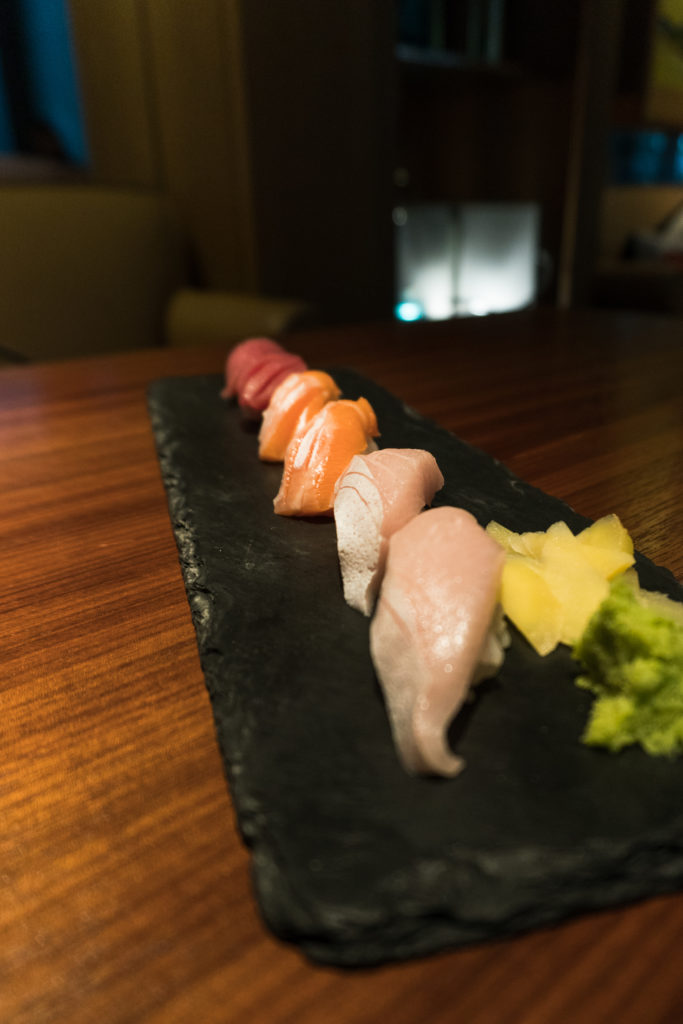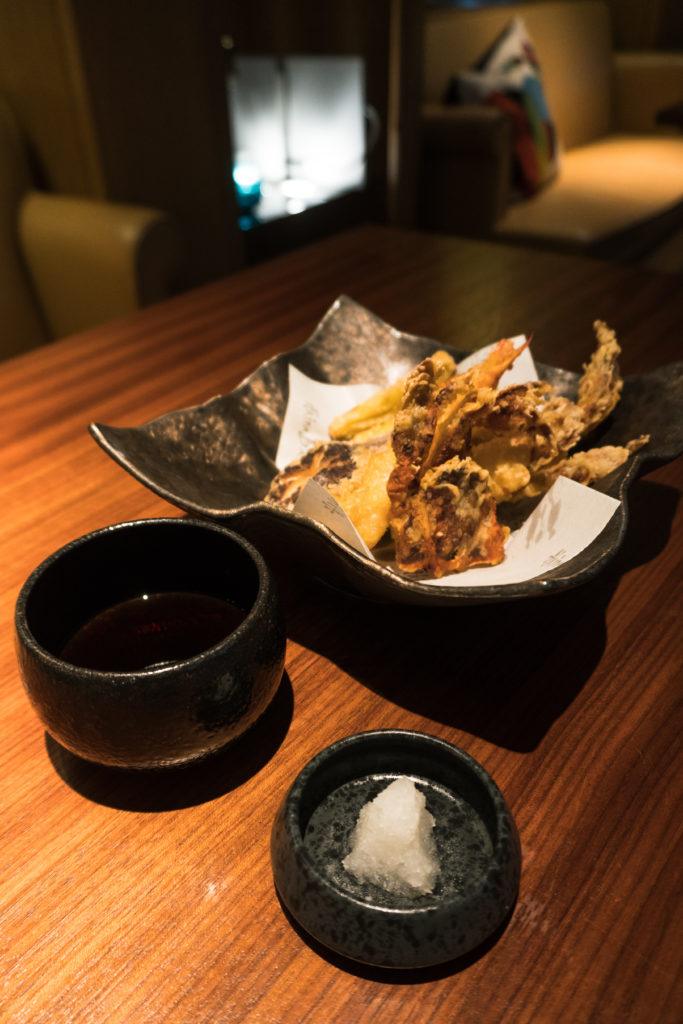 Okuchi Naoshi – Palate Cleansers. Vodka lychee granita and raspberry sorbet were the two options. I had the lychee granita and it tasted like deliciously flavored snow with a hint of lychee – very unique!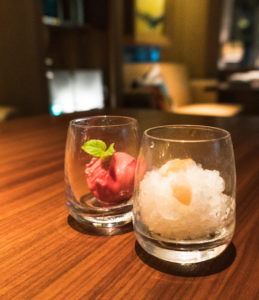 Mains – Rib Cap Tobanyaki and Chirashi Donburi. We decided to get the two most popular choices and they did not disappoint! The beef was extremely tender and well spiced and the Chirashi Donburi offered plenty of tuna, yellowtail and salmon chunks as well as avo!
Rice – Hosomaki Roll – more of a traditional roll but found the tempura to be very tasty.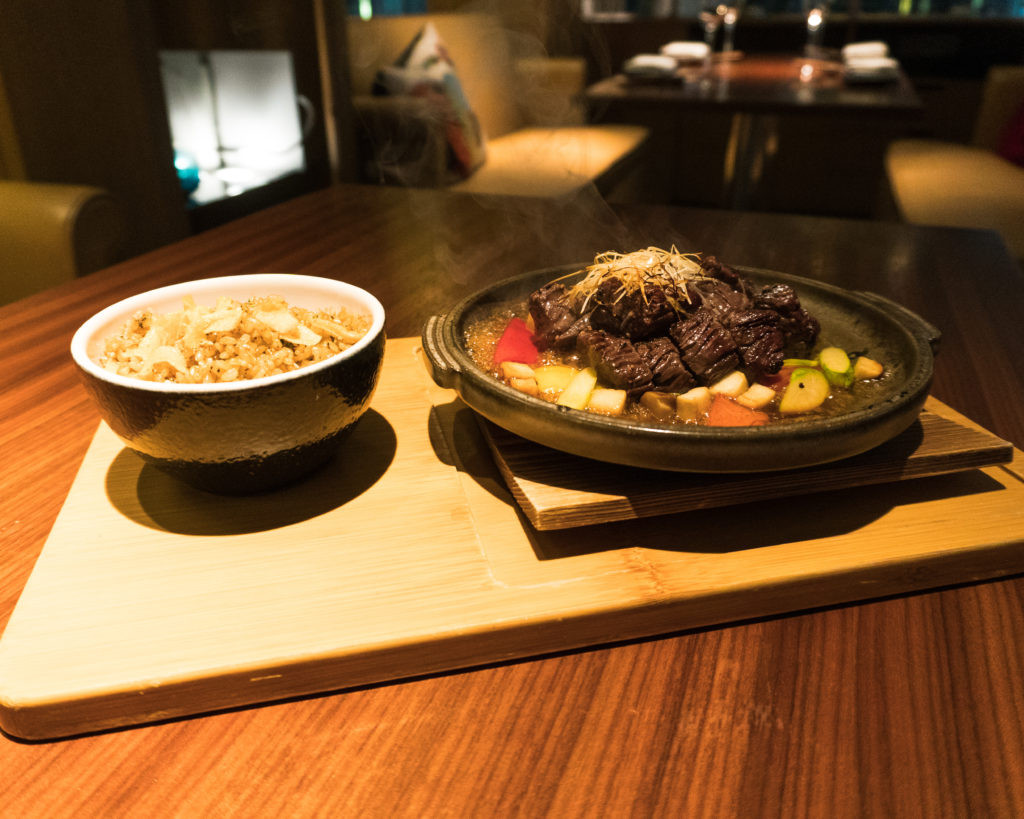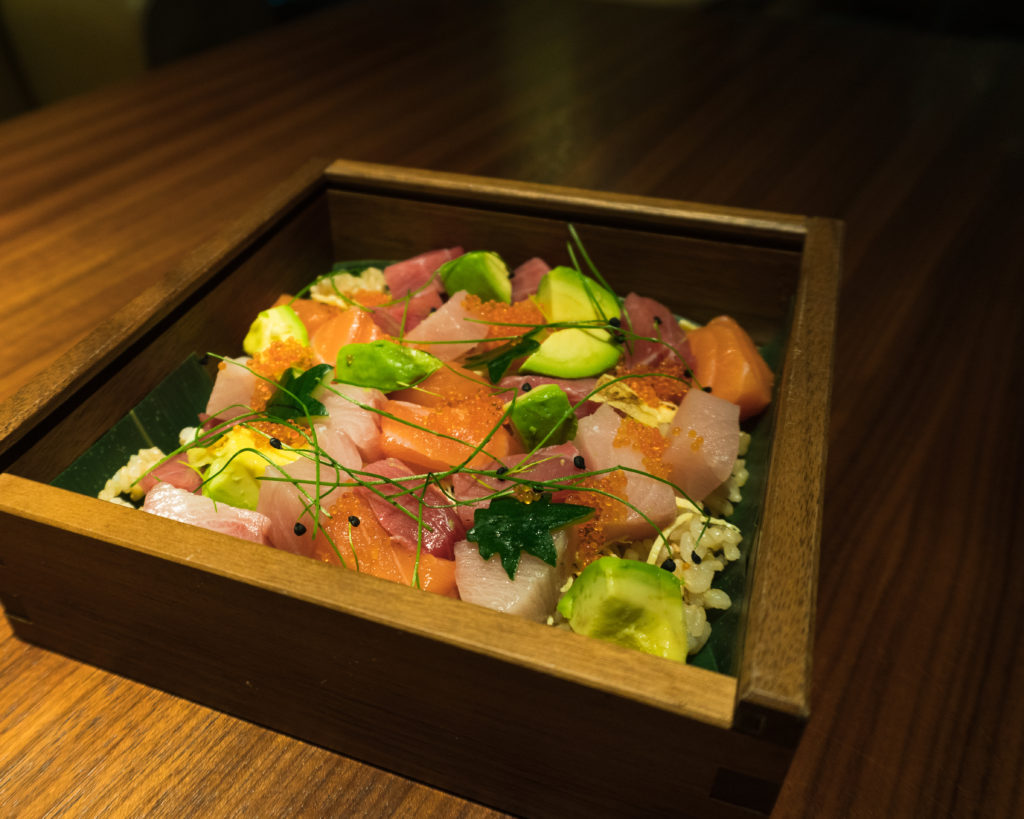 Mizumono – Matcha Sponge + Ice Cream. The combo together won me and my sweet tooth over.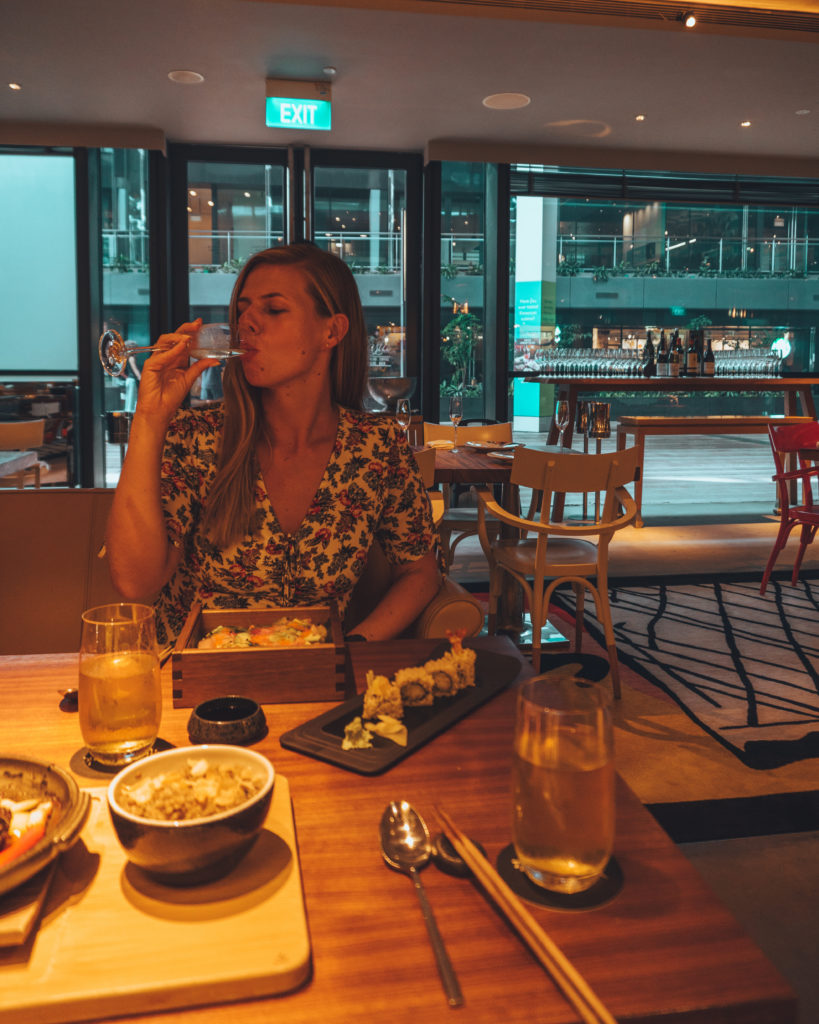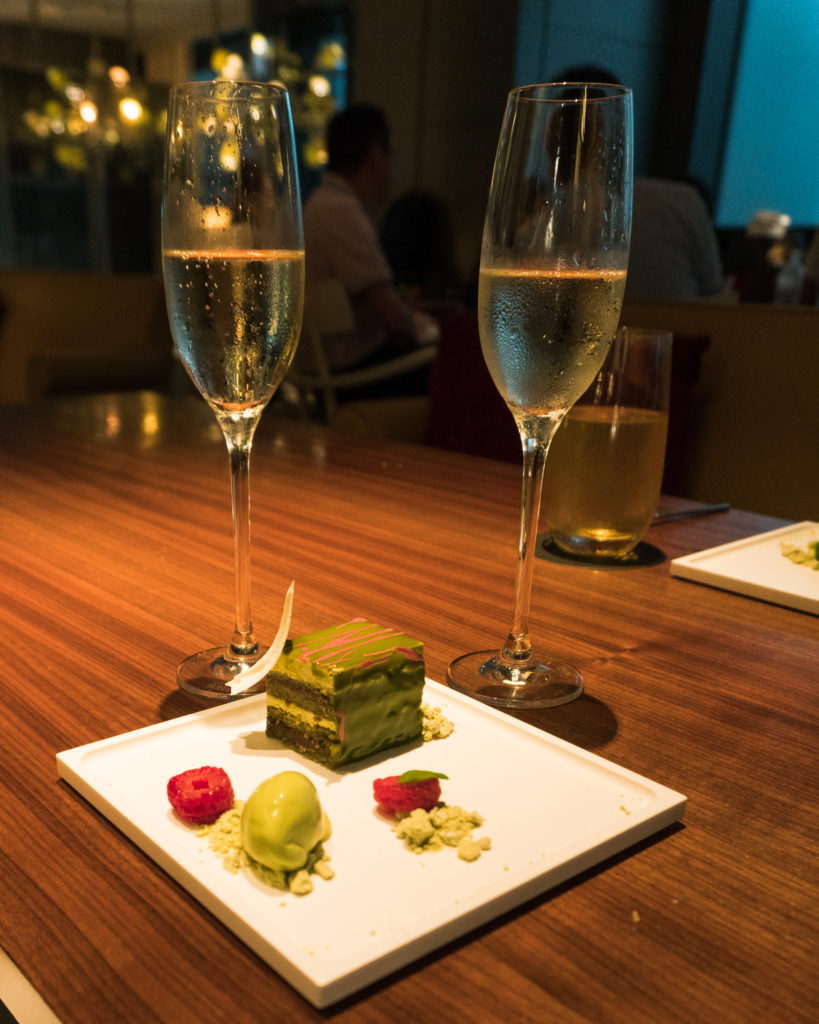 Two hours later and a few pounds heavier, we were finished with this Japanese affair and could not be happier. I was thoroughly impressed with the quality and variety of dishes and would recommend this set brunch menu to anyone who is in the mood for seafood and sushi!
Eat: Liao Fan Hong Kong Soya Sauce Chicken Rice & Noodle
I try to make a point of visit the Chinatown district in every city that I visit, and Singapore was no exception! A while ago, I came across an article about the World's Cheapest Michelin Star restaurant and it was actually in Singapore, so I had to swing by to give it a try!
I knew I was in the right place when I saw the line of people queued up to place their order. We ordered three mains (Soya Sauce Chicken Rice, Pork Rib Rice and Char Siew Noodles) and two Roselle tea drinks for 17.30 SGD which is roughly about 12.50 USD! While waiting for the feast, I watched part of the documentary about the restaurant.  The chef/owner of the shop thought it was a joke when he received a call to notify him of the Michelin star. Talk about an amazing call to get!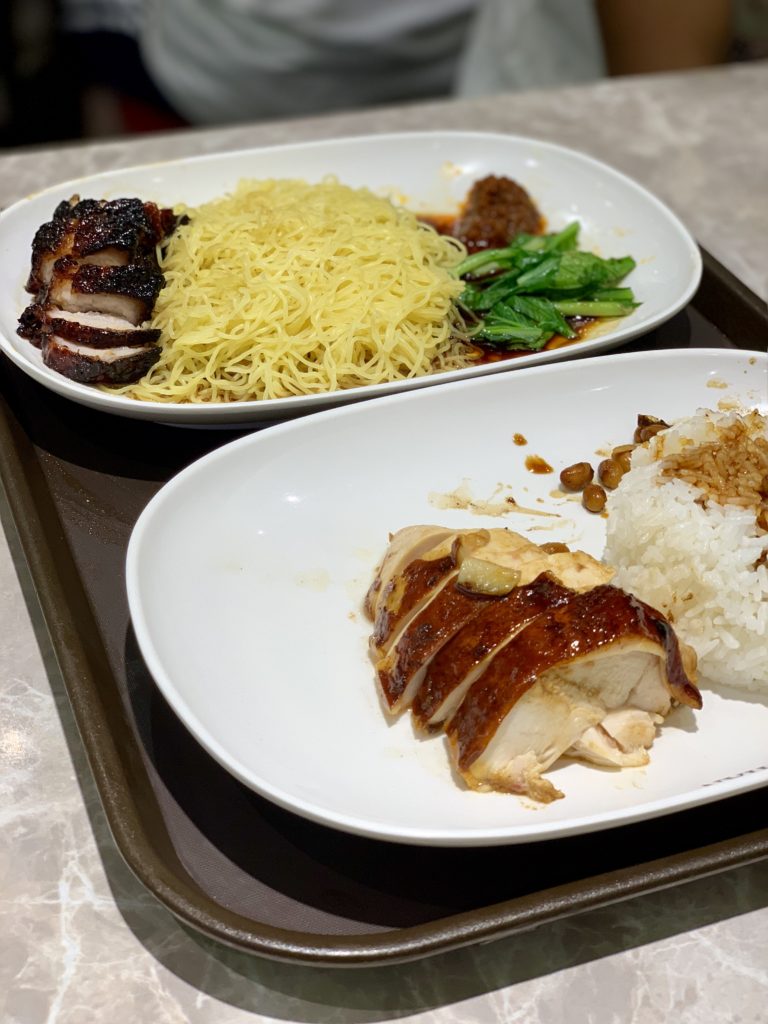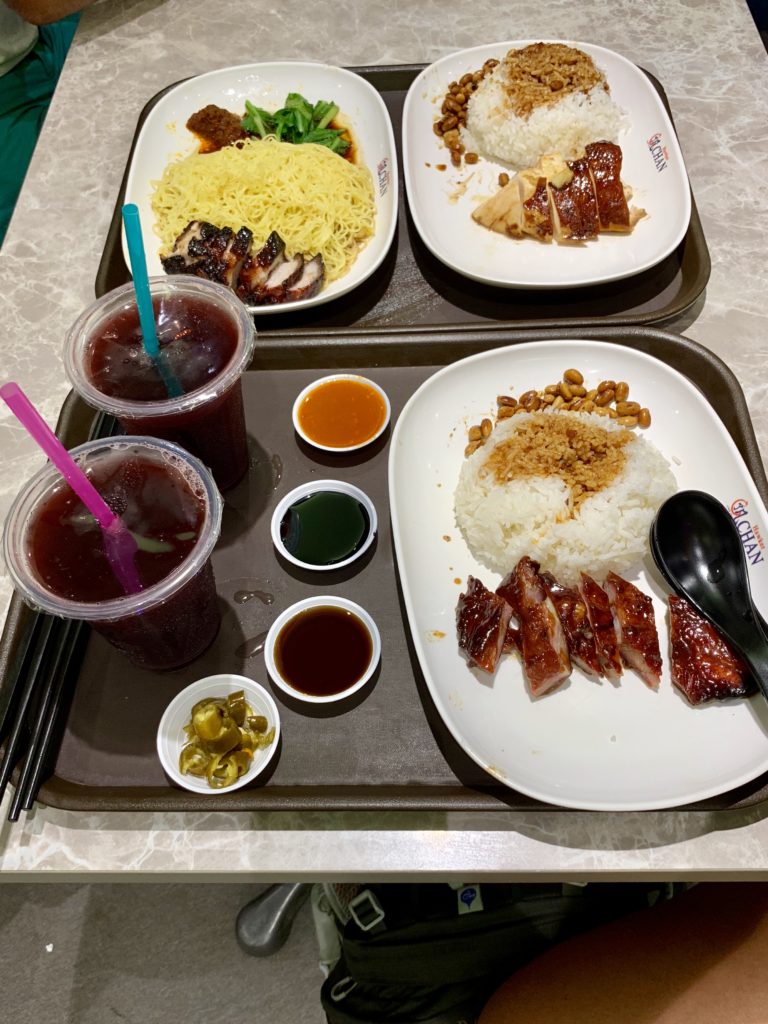 Anyways, order# 300 is up (that's ours!) and the feast began. Personally, my favorite was the Char Siew Noodles and the Soya Sauce Chicken Rice. I don't think I have ever had meat more tender than this! Within minutes, the plates were empty, and the food comma started. (To be honest, my mouth is watering just recalling this experience to write the post!) Don't skip out on this spot if you make it to Singapore!
In my opinion, there are two kinds of bars: ones where you go for quality / interesting drinks and ones where you go for the unique experience. Fish Pool manages to compete in both of these categories and let me tell you – it does it quite well. Located in the NCO Club within the JW Marriott Complex, Fish Pool is a cocktail bar where you can sip your drinks in the company of Syrena – Singapore's first mermaid!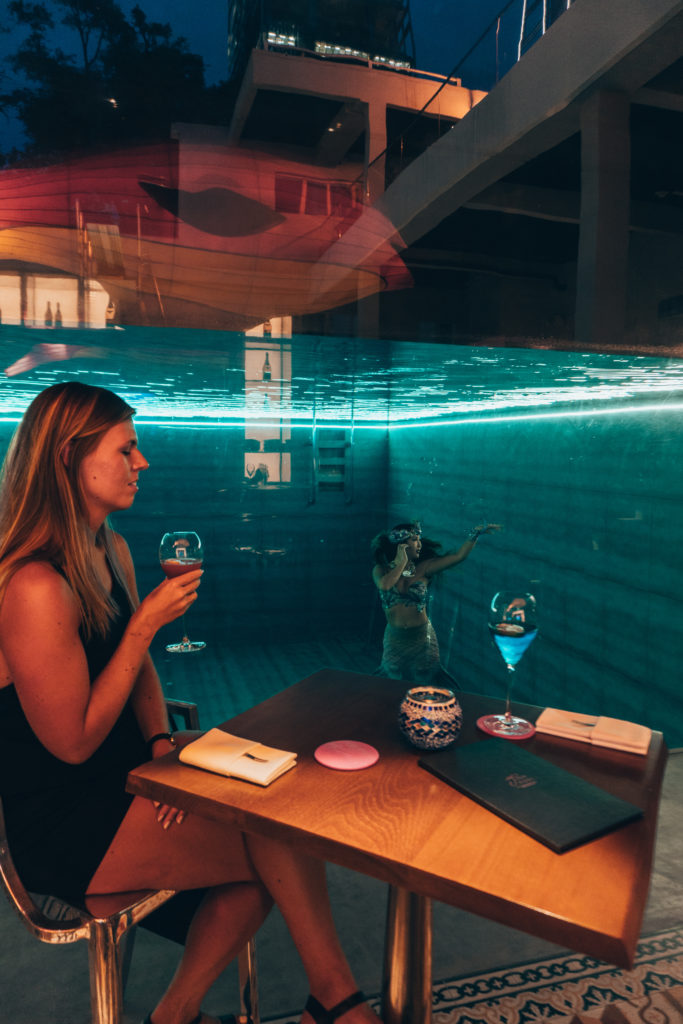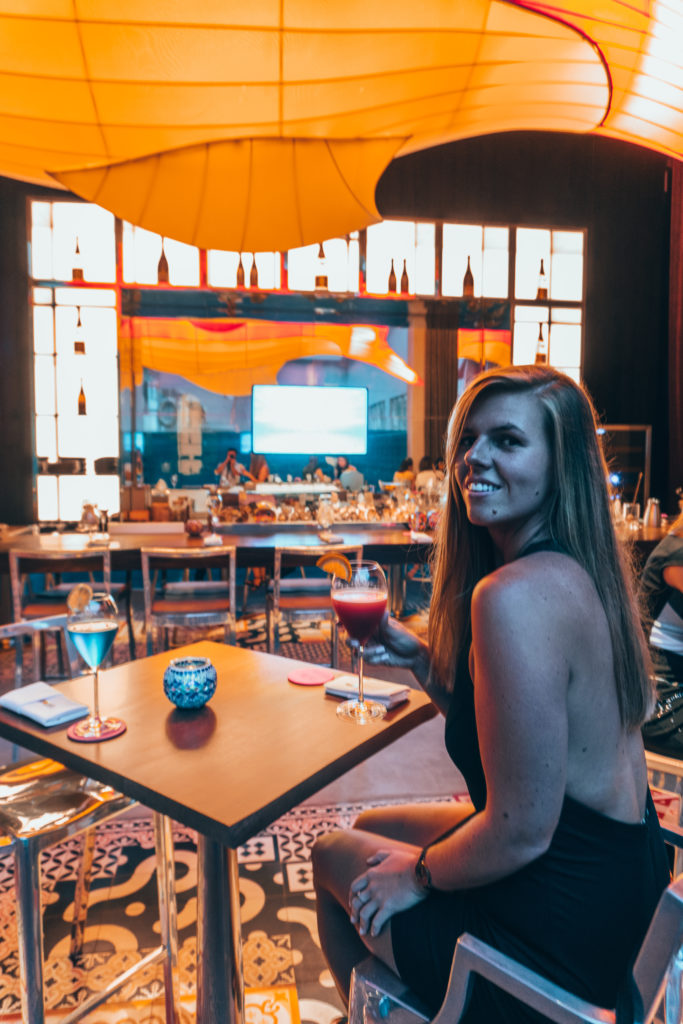 After we ordered our champagne-based drinks, the lights began to dim, and the bubbly show was about to begin. I wasn't quite sure what to expect but as Syrena entered the pool, I knew this was going to be a bar to remember! Floating around gracefully and striking beautiful poses (with a flawless face of make up!), Syrena was a professional mermaid making this look like a piece of cake. I sipped my pink drink (I had Syrena's Song- how fitting?!) and wondered how she can do it all underwater while I struggle to swim all on my own (no joke). If you're a mermaid fan or are looking for a unique experience, make sure to swing by the Fish Pool during your stay in Singapore!
See: Marina Bay Sands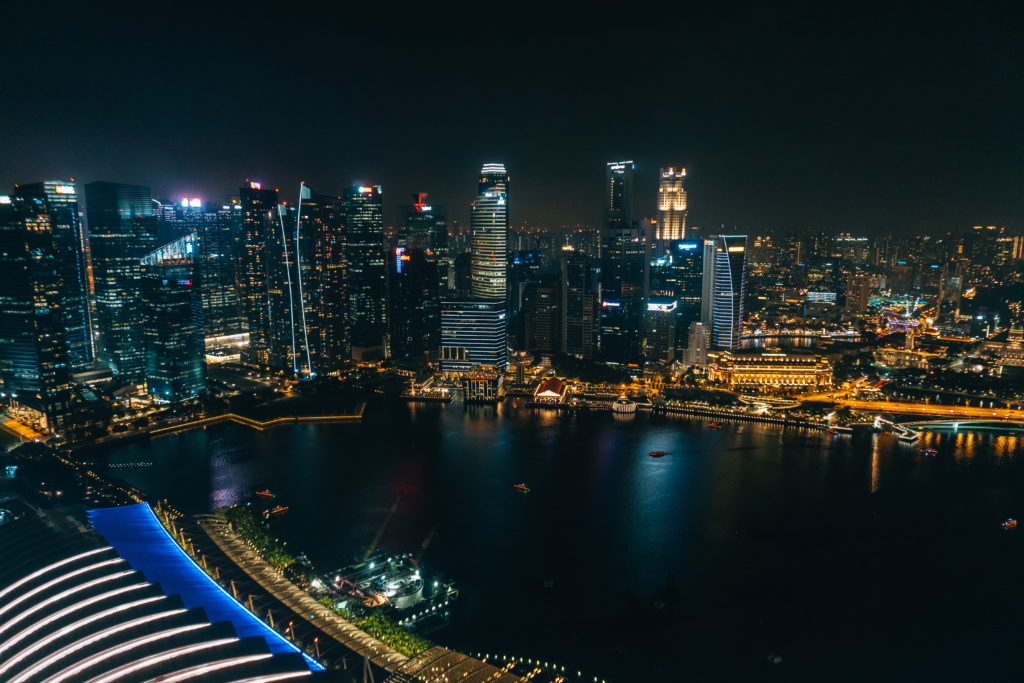 Marina Bay Sands is hands down the most iconic building of the Singapore skyline. We went up to Ce La Vie which is a rooftop club right next to the infamous infinity pool that has been all over the internet. It costs 20 SGD to ride the elevator but in return you get the money as a credit voucher for a drink on the rooftop. Luckily, we made it just in time to see the fountain light show from the top along with the nighttime harbor views – worth the 20 SGD in my opinion!
See: Gardens by the Bay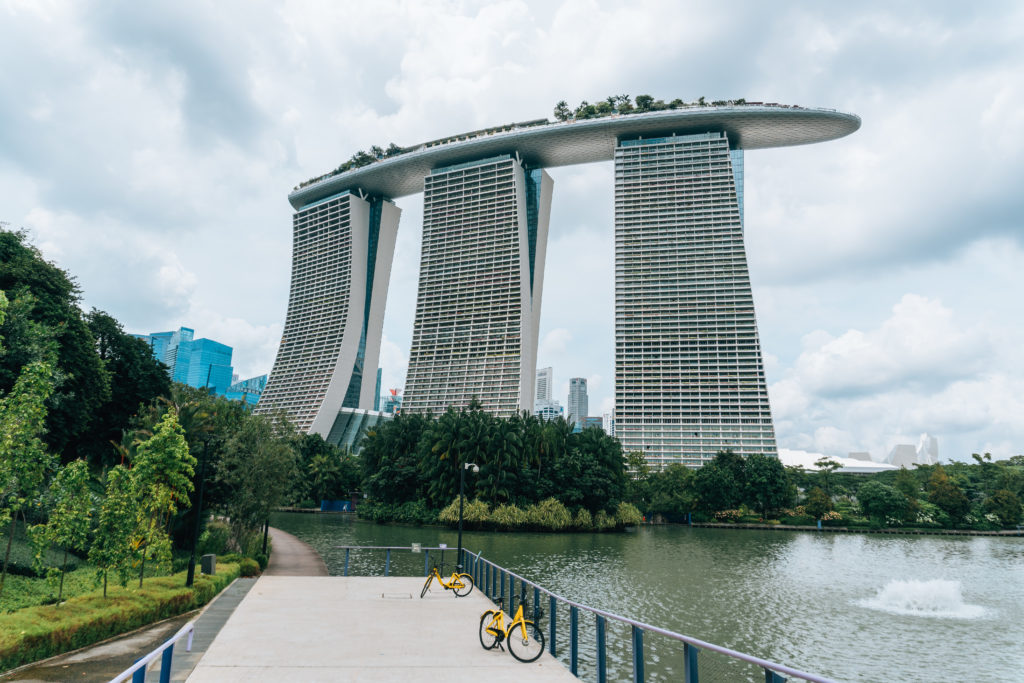 If you have time to spare, swing by the futuristic botanic gardens located next to the iconic Marina Bay Sands. There are two glass domes, but I didn't get a chance to explore them as I was running low on time. The Supertrees were very neat to see up close and to be honest, it all made me think of being in a sci-fi movie!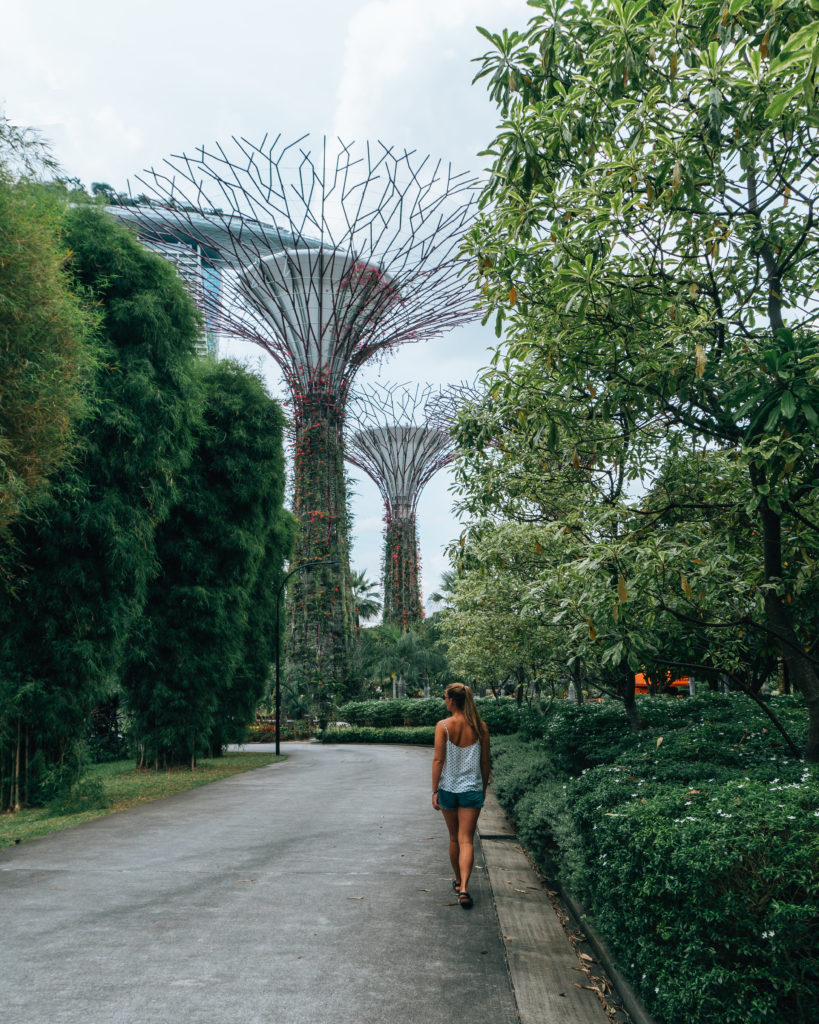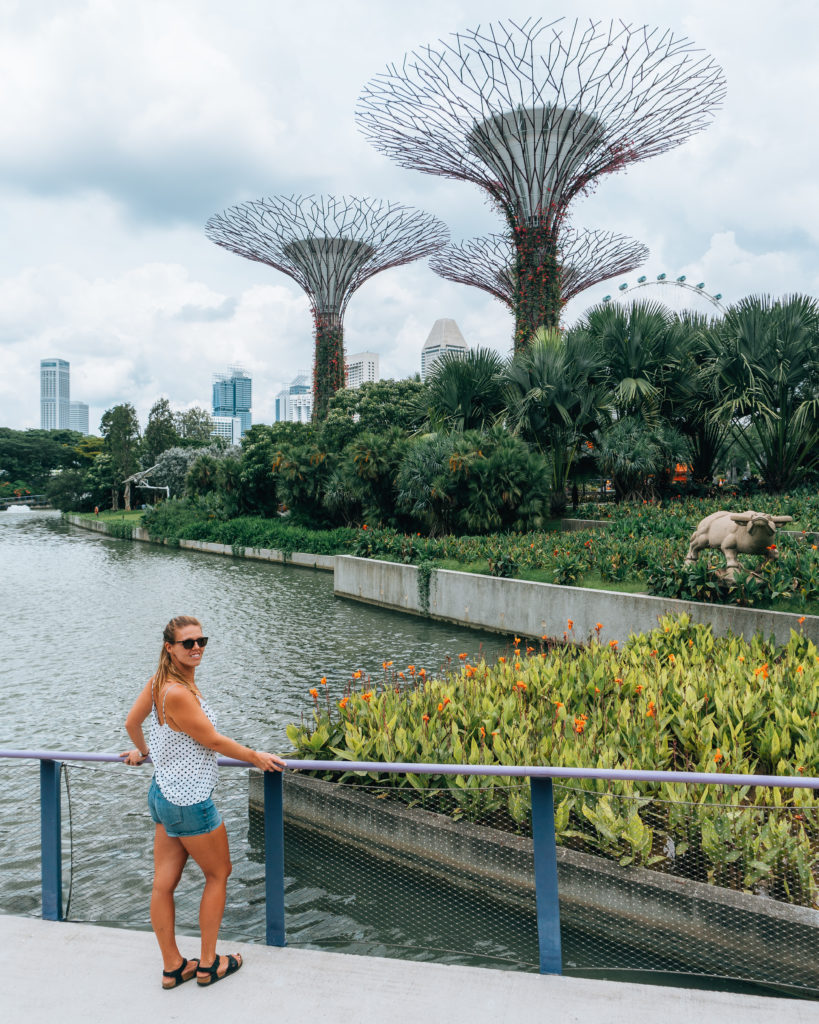 I really enjoyed my weekend in Singapore and already am looking forward to coming back someday! I'd recommend it to anyone as it has a very futuristic feel but also a strong Asian flare as seen in the cuisine.
I was welcomed as a guest by JW Marriott Singapore South Beach. As always, all opinions are my own.