I came across Phú Quốc Island as I was searching for 'Vietnam's best beaches' and within minutes, I was sold. Phú Quốc is located in Gulf of Thailand and is only a 50 minute flight from Ho Chi Minh City; however, if you look at it on the map, the island is way closer to Cambodia than Vietnam.
Here is my quick guide to Phú Quốc – Vietnam's Paradise Island!
Stay: Anja Beach Resort & Spa – Located about 15 minute scooter ride away from Phú Quốc on Long Beach which was close enough to go into town for dinner but far enough for the resort to be quiet at night. There is a scooter rental place across the street when heading towards town that I'd highly recommend- one of the best experiences yet. The pool right by the beach and bar was stunning- great place to have a drink (happy hour!) and enjoy the sunset. The views from our upstairs sea view suite was spectacular overlooking the pool and beach – I could not get enough of it!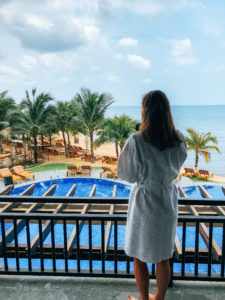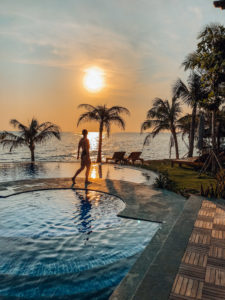 The resort also provided a complimentary airport pickup in one of the most luxurious vans I have ever been in. Nothing better than starting the beach getaway on a high note!
Food/Drink:
Saigonese Eatery – Hands down the best breakfast spot in town… seriously- so good that we had breakfast there twice! I had the scrambled egg sandwich with cheese and onion relish on that amazing bread and of course a Vietnamese iced coffee. Modern interior and chill music. Seriously considered moving in… haha!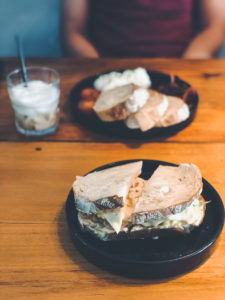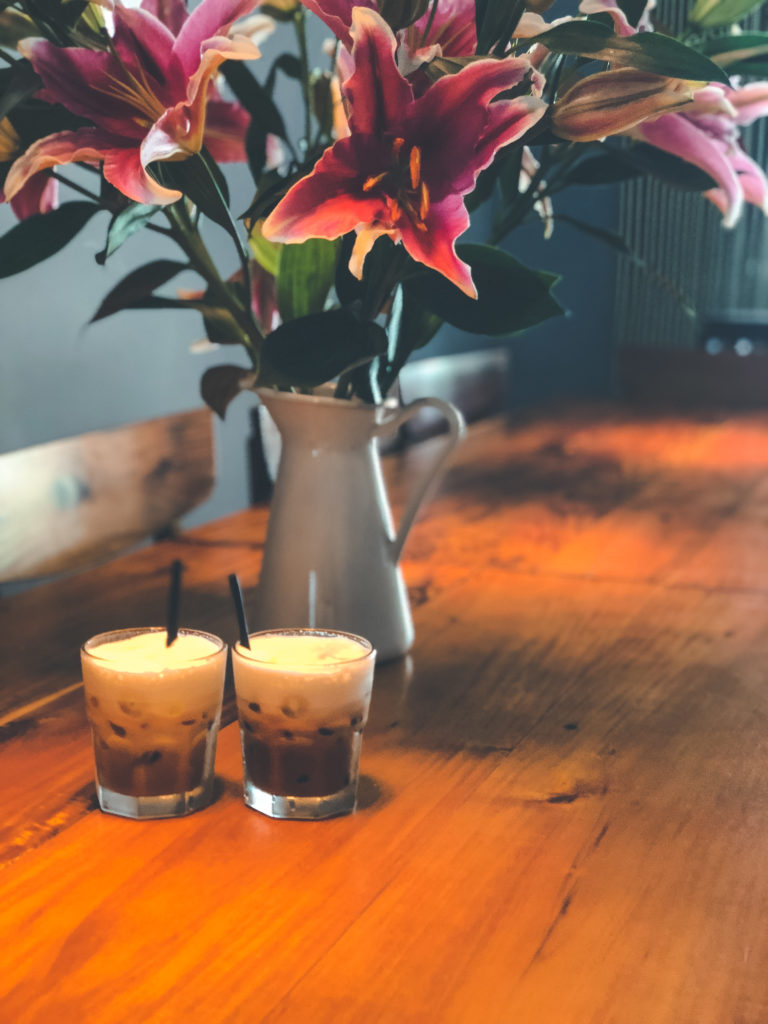 The Spice House – Located in Cassia Cottage Resort, the Spice House is the perfect place for a fancier dinner right by the beach. I had the prawns in coconut curry (served in a coconut) and it was a very flavorful and delicious meal. If you are looking to have a romantic dinner, get a seat outside at Spice House and sparks will fly – you'll get to overlook the gorgeous pool and hear the waves crashing from afar…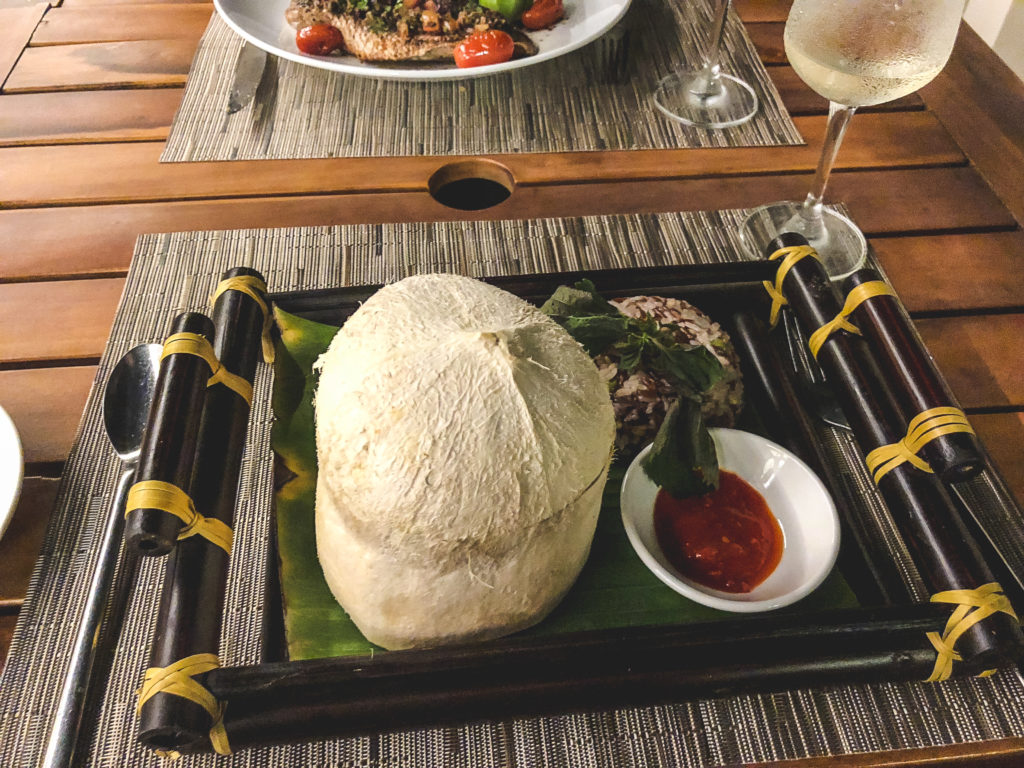 Bò Tơ Quán – Located on the main road (100 Trần Hưng Đạo), this place cannot be missed as the crowds fill every table possible. We've passed by it on our way to town a few times and saw how mobbed it was. One night after a failed dinner attempt at a stuffy touristy restaurant, we decided to try it and let me tell you- this outdoor eatery stole my heart! With only a handful of items on the menu, hotpot seemed like a thing to get and of course, some Saigon beers. No frills but one of the best meals of the trip! Also- make sure to have the tissues handy as you will be sweating BUCKETS from the heat of the hotpot burner as well as Vietnam being one big hotpot as well!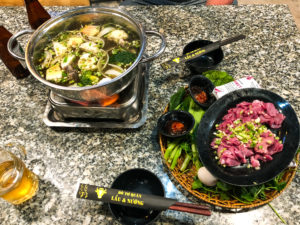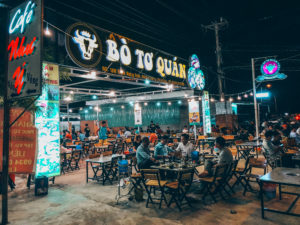 Rory's Beach Bar – This place reminded me of many of the beach shack bars that I saw in Bali. Very chill atmosphere with a bonfire on the beach and seating right on the sand. Can't ask for much more!
Paradiso Restaurant – While exploring Sao Beach, we decided to have a late lunch here. The restaurant is located right on the beach so you can still work on your tan while getting a meal in. Can't say no to a mojito on the beach, am I right?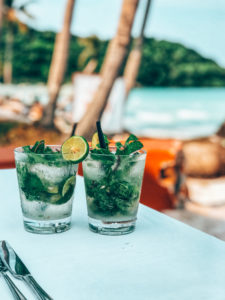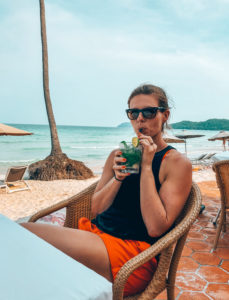 Activities:
Sun World Hon Thom Nature Park – While exploring the southern tip of Phú Quốc Island, we saw a cable car ride from afar… so we had to know what it was, right?!  After a couple minutes of scootering, we have arrived at Sun World which looked like an unopened theme park. Turns out, it is the world's longest three-rope cable car linking An Thoi town with Hon Thom Island at a length of nearly 8km. The ride one-way takes about 15 minutes and has stunning views of An Thoi Island Cluster. Also – the Sun World Hon Thom Nature Park was officially opened in Feb 2018; however, it is far from being fully finished at this time. After getting off the cable car on Hom Thom Island, the construction was in full swing but we got to enjoy the beach anyway! If you're heading to Phu Quoc, I'd suggest checking it out because these views were INSANE! I assume when the construction is finished, there will also be many activities on the island when you arrive but even just the ride was worth the price.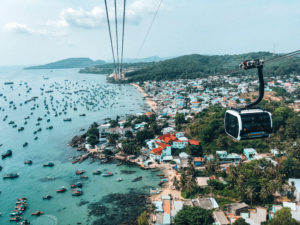 Scooter+Beach – The best way to explore the island is to rent a scooter and beach hop as you please. Even though when we went to pick out the scooter, it didn't rain… IT POURED- the rest of the trip had almost perfect weather (ideal for beach hopping). The beaches I would recommend checking out are:
Sao Beach (Bai Sao) – Located in the eastern side of the southern tip, Sao Beach is a dreamy scene: gentle waves, white sand and swings right over the turquoise water – couldn't have asked for more.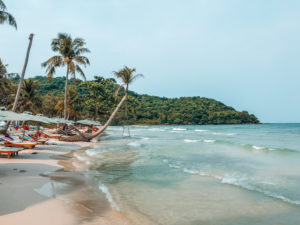 Ong Lang – located just a bit north of Long Beach on the west coast, this beach is very similar to Long Beach but less developed.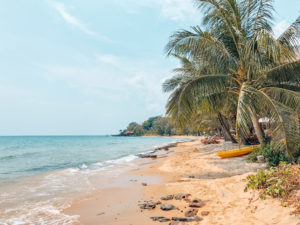 Long Beach – this is where Anja Beach Resort and Spa was located. It is called 'long' because it stretches for over 20km of Phú Quốc's coast. Many resorts and restaurants are located here so you'll likely end up somewhere along it for dinner or drinks.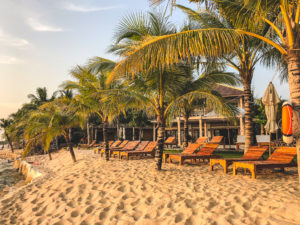 One more note about beaches: the beaches that are not managed/maintained by hotels or resorts had a lot of trash on them. It was a bunch of plastic debris, lost shoes and bottles. Absolutely crazy how such a beautiful place could be ruined by trash pollution.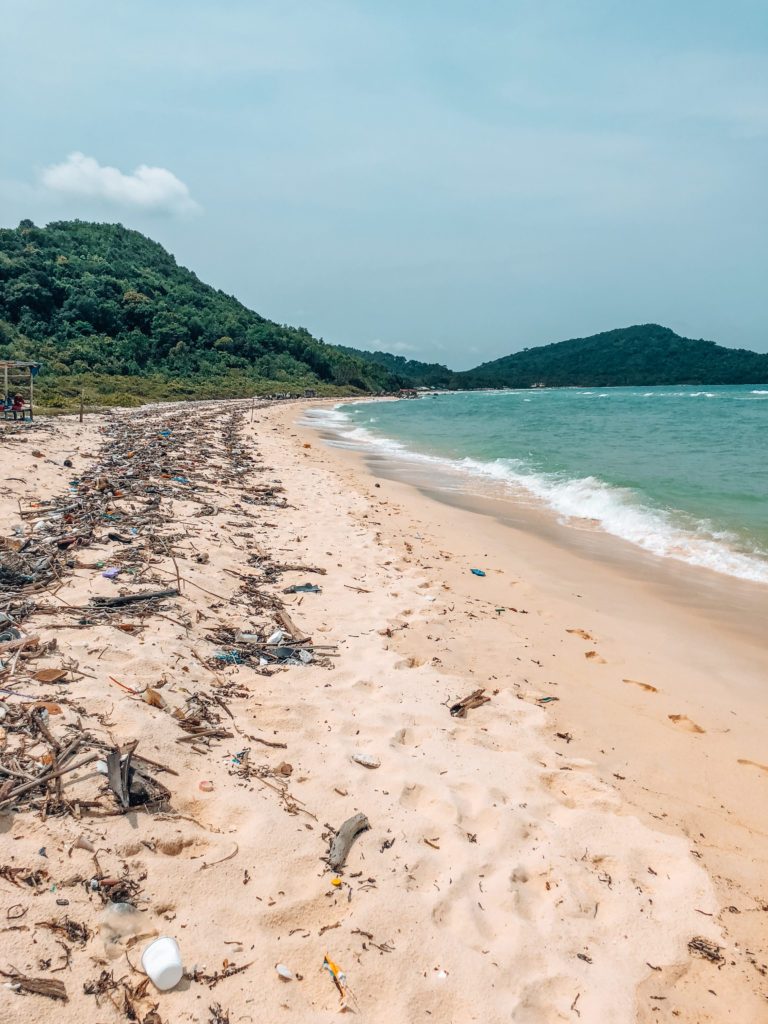 Overall, I'd recommend including Phú Quốc on the itinerary if you're looking for tropical getaway from the mainland!
I was welcomed as a guest by Anja Beach Resort & Spa. As always all opinions are my own.